The Strange Tale of the Skylab's Fall From Orbit
As the world awaits a decommissioned satellite's return to the planet later this week, a look back at the fiery plunge of the Skylab in 1979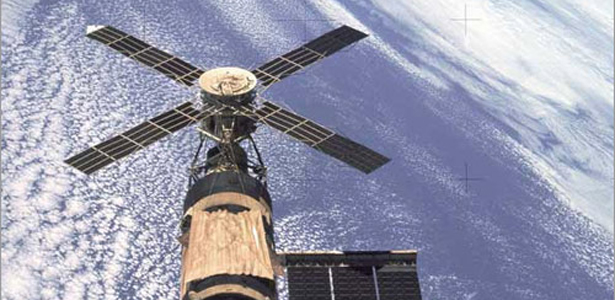 Sometime later this week, remnants of NASA's Upper Atmospheric Research Satellite (UARS)
will come crashing down to earth
-- most likely landing in the ocean or somewhere quite remote. Nevertheless, the one-in-3,200 chance that debris hits a person has stirred up quite a frenzy of speculation, with various blogs and
news
outlets
asking
if you could be hit.
The story is not unlike that of NASA's Skylab, which fell to Earth in 1979, provoking a frenzy of its own. TIME magazine write:
With varying degrees of fear, anger and fascination, but mostly with a detached kind of bemusement, the world this week awaits an unprecedented event: the fiery fall of the largest machine man has ever hurled into space. The American Sky lab vehicle, nine stories tall and weighing 77.5 tons, is expected to slip into the earth's upper atmosphere, then disintegrate into a celestial shower of flaming metal as spectacular as any of last week's Fourth of July fireworks displays. Somewhere, probably at sea, ten fragments, each weighing 1,000 Ibs. or more, will crash to earth at speeds of up to 270 m.p.h. with the force of a dying meteor. Thus will be observed, after a series of miscalculations, the tenth anniversary of man's proudest achievement in space, the walk on the moon.
Image: NASA.