The Software Newspapers Need to Cover Homicides Better
Someone is murdered in Washington, DC every couple of days. If it's someone famous (or rich), that news makes a splash. It'll be on television and in the paper, paraded across websites and memorialized by the powerful. If the person isn't famous, the news will be almost nowhere. In fact, it might show up on a single site, HomicideWatch.org, the brainchild of Laura Amico created with coding assistance from her husband, Chris Amico.
Founded last September, the site's mission is to cover every single homicide in the city. As the site's header puts it, "Mark every death. Remember every victim. Follow every case." Because of its comprehensiveness, the site has become a crucial (and often exclusive) source of information about the crimes that don't make headlines. Fifteen-thousand visitors a month look at 90,000 pages, leaving hundreds of comments. Not exactly the Huffington Post, but certainly not bad.
Now, the Amicos are taking the site to the next level -- having recently launched a nice redesign -- and hoping to expand the idea to more cities.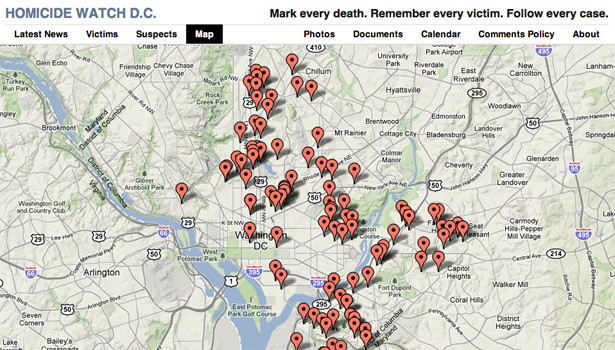 Homicide Watch is built on shoe-leather reporting and data. Laura was a crime reporter in California for several years and Chris is a journalist/developer with NPR. Working together, they built a backend that served Laura's need to keep track of victims, suspects, and the documents and dates from trials. With the new redesign, you can see how the database works and dig into the documents. It's as much a system for tracking homicides as it is a blog about murders. Take a look at the
map page
and you can see how the data starts to fit together. 
The Amicos have been bootstrapping the site since it launched. They don't intend to sell advertising or access to the site, but they do have a plan to create a sustainable business model. In the coming months, they'll offer the software that powers the next-generation of the site, along with services to help cash-strapped newsrooms better cover homicides in their areas.


I originally wondered two things about the site. First, how could Laura Amico handle covering every death in the city. She shrugged it off. "The part that people expect to be difficult in reading all these charging documents and talking to the families is not difficult for me at all," Amico said. Victims' families regularly get in touch to express their appreciation, which makes it "tremendously rewarding" work. It is particularly easy relative to the traditional newspaper crime coverage she used to do, in which she was often asked to get the families to talk immediately after a tragedy.

Second, Amico is a blonde caucasian woman from California. How did Washington DC residents react to her covering homicides whose victims and suspects were overwhelmingly black? Amico said that she was very conscious of those differences but she'd designed the site to deemphasize her identity in two ways. She relies heavily on primary documents from court cases, steering away from what might be perceived as analysis, and she highlights comments from the communities impacted by the murders. "I say, 'This is your platform, go ahead and comment. This is a place,'" Amico told me. "I think that elevates it beyond who it is specifically running the site."