The No-Name Companies Selling More Phones Than Samsung, LG, and Apple Combined
MicroMax. Spice. Tianyu. Maxx Mobile. Videocon. Karbonn.
These are some of the hundreds of small cell phone makers that are eating up market share across the developing world. By Gartner's
latest quarterly numbers
, the top 10 cell phone makers -- including all the big names you know like Nokia, Samsung, LG, Apple, RIM, and HTC -- only control about 64 percent of the market. Since 2004, cell phone makers outside the top 10 have doubled their market share.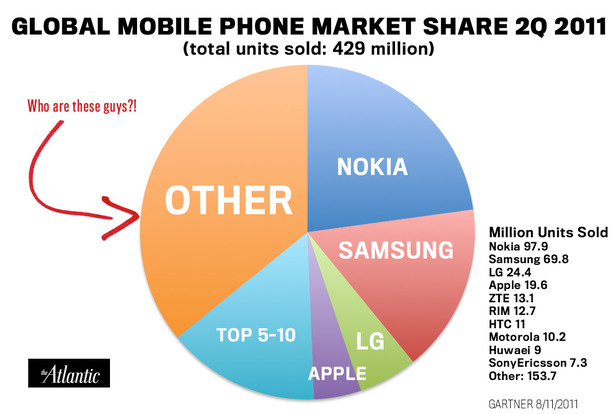 The sheer number of phones these smaller players are producing is staggering. They sold 153 million units, including the very popular grey market phones in China. The Shenzhen area alone pumps out one billion phones per year, according to a China Daily article. One city, 1,000,000,000 phones!
Just who are these companies? There are several tiers of companies. At the bottom are thousands of mom-and-pop factories that sell some small number of phones. It's unclear how many of them there are because they often sell into the gray market, but they number in the thousands, so the total number of phones they sell is quite large. We're talking tens of millions of phones.
The next tier up is composed of tiny manufacturers that sell on the order of 100,000 units a quarter, according to Neil Shah, an analyst at Strategy Analytics. These 400 to 500 companies are located mostly in China and India. Taken together, they sell about 30 million phones a quarter, which is 10 million more than Apple does in the same time. Of course, we're not talking about iPhone 5s here. These are cheap and simple phones designed for the cell phone buyers with the least money.
But not every phone maker outside the top 10 is a tiny factory in Shenzhen. Some of the next tier of companies -- those who are outside the top 10 but inside the top 40 -- are promising. A few might end the next HTC, the Taiwanese* company that burst onto the international market in recent years.
Right now, MicroMax, the top domestic Indian phone maker, is probably the leading candidate for "most promising phone maker outside the OECD and China." Shah reckons they are now the 12th leading mobile phone maker in the world, just behind the legendary Sony-Ericsson and ahead of big Chinese competitors like Lenovo. MicroMax's tagline, "Nothing Like Anything" is a bit misleadingas most of MicroMax's phones are almost exactly like everything. Nonetheless, any company that goes from making 0 phones to several million in a few years deserves to be recognized. Other domestic Indian manufacturers to keep an eye include Spice, Maxx Mobiles, and Karbonn.
Overall, the mobile phone market is more interesting than it might appear at first. In the American press, it seems like a dogfight between Apple and Google, Nokia is in the tank, and no one really pays attention to the manufacturers in the developing world. But the retail numbers tell a different story. Nokia is still the biggest-selling brand in the world. Apple is a relatively small player in the global phone game. And there is incredible fragmentation in the marketplace. Long-term, one expects that consolidation, particularly in China and India, but for now, it's a wild market where any number of today's tiny companies could be tomorrow's giants.

Correction: An earlier version of this post said HTC was Chinese.