The Most Underrated CEO in Tech: IBM's Samuel Palmisano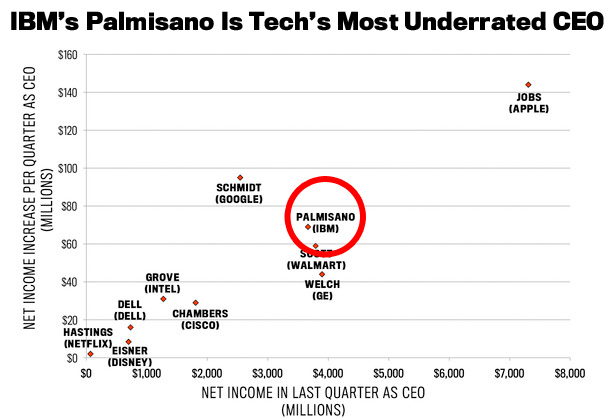 Today, IBM surpassed Microsoft as the second most valuable technology company in the world. They are led by Samuel Palmisano, who must be the most underrated CEO in America.
How many profiles have you read of Steve Jobs, Eric Schmidt, Lee Scott, and Jack Welch? Too many, I'm sure. They are recognized as the brilliant CEOs who led their companies at massively successful times. No such recognition is heaped on Palmisano. Many people in the technology industry have a hard time remembering or naming him. Outside of the tech industry, he's unknown.
Take a look at the chart above. (I came up with it to illustrate that Steve Jobs is far and a way the best CEO of at least the last 30 thirty.) The Y-axis shows the net income increase in millions of dollars from the first quarter of a CEO's tenure and the last. The x-axis shows the total income of the CEO's company in that last quarter. Basically, it shows both growth per quarter and the absolute size of the bottom line.
We'd love to gather more information about what it's like to work for Palmisano, given that he's something of a private figure. If you're interested in talking with me, get in touch.