The Fight Over the Future of Digital Books
On September 12, 2011, the Authors Guild sued the University of Michigan, the University of California, the University of Wisconsin, Indiana University, and Cornell University over digital copies of books from their vast libraries. Many of these scanned books are no longer in print and of interest only to scholars, but the lawsuit reflects the growing tension between professional authors and the libraries that hold their work.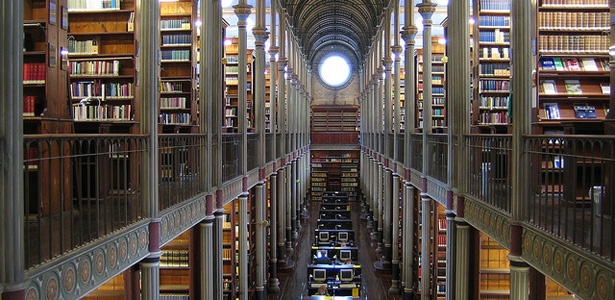 The mysterious tower of the Cambridge University library, once rumored by undergraduates to be filled with pornography, is actually stocked with
more interesting stuff
: Edwardian spy novels set in far away lands, old country cookbooks, and legal thrillers by authors who are long gone, all conscientiously saved for posterity. Today scholars greatly value collections like these and the librarians who had the foresight to create and keep them. Without such troves we would have precious little to study to understand our past, present, and future.
In a plot turn that surprised many last week, the Authors Guild, led by modern-day legal-thriller writer Scott Turow, filed suit against five universities and the digital tower, called HathiTrust, that those universities created to preserve and make available to students and faculty scans of books from their collections.
Most of these scans are the institutional copies of books digitized by Google, which the Authors Guild sued six years ago in a complicated case that has still not been resolved. (The parties met with a judge yet again last Thursday.) This is the first time Google's university partners have been directly targeted by the plaintiffs.
Unlike Google, which ambitiously -- some would say recklessly -- planned to make all scanned books available in some form to the public, from "snippets" to full views, HathiTrust simply wishes to make available for scholarship older, out-of-print books whose authors and publishers cannot be located. Often called "orphan works," these books exist in an unclear realm: still technically in copyright but without identifiable rights-holders. What is very clear is that without the orphanages we call libraries, many of these works would no longer be available for scholars to read.
Authors Guild v. HathiTrust is a strange legal twist. For an association of professional writers, the Guild seems to have forgotten some of the basic principles of its craft, such as not placing sympathetic figures like librarians in the role of villains. Almost comically, the Guild's press release trumpeting its lawsuit against HathiTrust augurs a dark day in the not-too-distant future when old works, including obscure Yiddish texts, are "abducted" and "released" to thousands of students and professors.
One senses that the Authors Guild understands that librarians make for worse antagonists than an Internet giant. The Guild hasn't asked for millions of dollars in damages from HathiTrust, as it has from Google -- merely the unplugging of its vast digital library. (The Guild may also realize that state institutions like the University of Michigan have strong legal protections.) In a ham-fisted attempt to pluck the public's heartstrings, their lawyers added a few plaintiffs from central casting: a poet, a Shakespeare scholar, a children's-book writer and illustrator.
Yet those authors aren't being wronged here. They are well known, and remain well protected. Moreover, one of the main reasons the Guild's class-action lawsuit and proposed settlement with Google has been handicapped is that the Guild doesn't represent all, or even most, authors. It speaks for only a small fraction of those who write books, and many authors -- including most of my colleagues in academia -- would be delighted if a university preserved and made available their works for decades to come, in modern formats.
The Authors Guild has had to fall back upon stale black-and-white arguments about their inviolate right to make copies of their own works. Yet they fail to mention sections of the U.S. copyright law that strongly support what the universities are doing, and how they are doing it.
Section 108(e) of the copyright law permits libraries to make copies of out-of-print works for patrons, and Section 107 spells out critical fair use provisions, in which non-commercial scholarly intents are especially worthy of exemption. Perhaps the Authors Guild is banking on our era's dispiriting loss of balance between rights-holders and readers and the steady erosion of fair use, as well as a Congress that is inactive or hostile to restoring the original purpose of copyright law.
We can hold out little hope for change on that front. But instead of suing, the Authors Guild could work with librarians to identify the real orphans as part of a sensible process HathiTrust is committed to.
Let's hope there's still time for a rewrite of this legal thriller.
Image: pnoeric/Flickr.