New research shows that ancient stone tools from a site in Kenya are much older than previously believed. How can scientists tell?
A team of scientists from around the world has concluded that stone tools found at a site near Lake Turkana in Kenya are the oldest known tools made by homo erectus, a predecessor of modern humans, according to a new paper published in the journal Nature. The handaxes, picks, and other precisely crafted implements were originally discovered in the 1990s by French archaeologists but until now the age of the tools was not known. The researchers now estimate them to be about 1.76 million years old.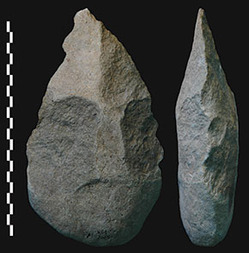 How can they tell? There are a variety of techniques that scientists use for dating the age of a site or a specific object. The most familiar are radiocarbon dating which measures the decay of carbon-14 in organic materials and uranium-lead dating which can measure the age of rocks formed out of magma or lava.
But what do you do when the thing you want to date a) isn't organic, and b) isn't the age of the rock itself but when a human carved it? Then you have to measure the age of what surrounds it, and that's what the researchers did. Using a technique called paleomagnetism, the scientists were able to home in on an estimate for the age of the sediments surrounding the tools. This is how it works: Over the last 10 million years, the magnet poles of the earth have flipped about four to five times every million years (at earlier times in Earth's history, the reversals happened less regularly). When the poles flip, a compass pointing north will be aiming at Antarctica.