Microchip Reunites Cat and Owners After 5 Years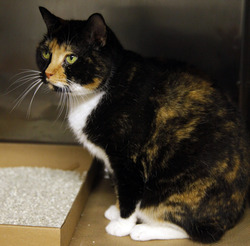 The Squires family of Colorado was sure they would never see their cat, Willow, again. It had been five years, after all. But yesterday Willow showed up in Manhattan, and thanks to a microchip implanted when she was a kitten, they will be reunited in Boulder soon, the
New York Times reports
.
Ms. Squires said she and her husband, Chris, were shocked when they received a call about Willow on Wednesday from Animal Care and Control, which runs New York City's animal rescue and shelter system. Ms. Squires said that when they saw a picture of the cat, they knew it was Willow.

Willow was found on East 20th Street by a man who took her to a shelter, and Julie Bank, executive director of Animal Care, said the microchip led to the Squires family.

"All our pets are microchipped," Ms. Squires said. "If I could microchip my kids, I would."
Pet microchips are quite common. One of the major pet microchip databases, Home Again, has some 6.5 million registered pets and claims to have reunited some 600,000 lots pets with their owners. The microchips are the size of a grain of rice and last the lifetime of the pet. They typically cost less than $100.
Willow's whereabouts during the intervening five years remain unknown.
Image: AP.