How Meg Whitman's eBay Tenure Stacks Up Against Other CEOs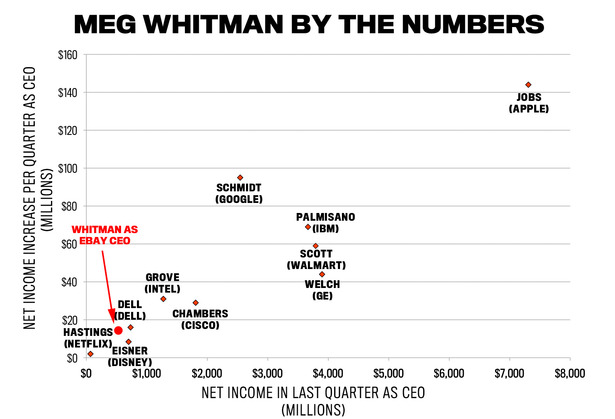 Meg Whitman's name is back in the headlines with the rumor that she might replace Léo Apotheker as head of HP. The New York Times ran
a rather catty article
about the grumblings in the tech world at the prospect of the move. One of the kinder quotes went, "It's not a ridiculous choice. But they could have done better."
To me, it felt like people were focusing on Whitman's personal style and the lingering aftereffects of her GOP governor run more than her performance as a company executive.
I think this quantitative analysis bears that out. If you look at Whitman's tenure (late 1998 to January 2008) at eBay, she did well, at least by the bottom-line measure of growing net income. Stacked up against the most legendary CEOs of our time, she holds her own against all but the truly elite (Schmidt, Palmisano, Scott, Welch, Jobs). She's situated in a little cluster with Michael Dell and Michael Eisner, which isn't anything to sneeze at.