Groupon Deals May Hurt Your Yelp Ratings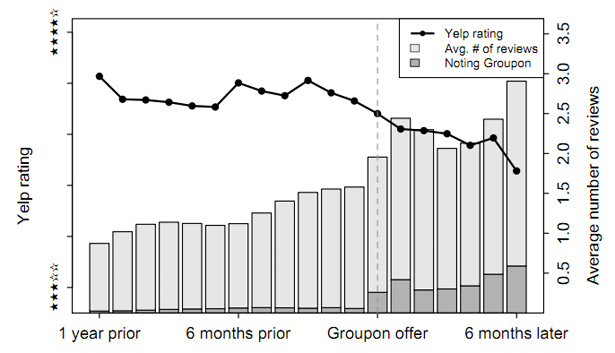 New research suggests that there may be a hidden cost for businesses who offer a daily deal of the type popularized by Groupon. In the months after the daily deal, the businesses' Yelp ratings suffer.
Researchers looked at 16,000 individual Groupon and LivingSocial deals in 20 cities, the number of Facebook likes they received, and the Yelp ratings of the businesses to which they were attached. The absolute drop in ratings is rather small -- an average of 0.12 stars -- but as the researchers point out, that change could affect the sorting of businesses on the site. One mitigating factor could be that Groupon-running businesses get more Yelp reviews, and my perception is that many users of the site tend to use that as a proxy for a location's popularity. In other words, perhaps the small drop in average rating is balanced out by the uptick in ratings.
The wonderful new paper from John Byers and Georgia Zervas from Boston University and Michael Mitzenmacher from Harvard University was featured on
Tech Review's arXiv blog
. arXiv notes that the work shows "the power of analyses that fuse sales data with social media effects."