Google Doodle Celebrates Freddie Mercury's Birthday
A video tribute to Queen front man Freddie Mercury follows the rocker through the lyrics of the band's hit song "Don't Stop Me Now"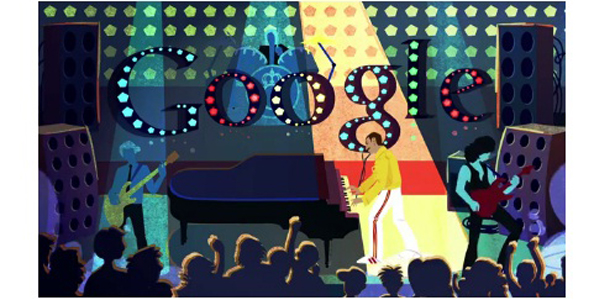 An animated music video of Queen's "Don't Stop Me Now" appeared as Google's homepage logo in the U.S. this morning (it had been up yesterday in the rest of the world but was delayed here "out of respect for Labor Day"). Queen front man Freddie Mercury was born on September 5th, 1946 and died of complications from AIDS on November 24th, 1991.
His bandmate Brian May wrote on Google's blog:

Freddie would have been 65 this year, and even though physically he is not here, his presence seems more potent than ever. Freddie made the last person at the back of the furthest stand in a stadium feel that he was connected. He gave people proof that a man could achieve his dreams--made them feel that through him they were overcoming their own shyness, and becoming the powerful figure of their ambitions. And he lived life to the full. He devoured life. He celebrated every minute. And, like a great comet, he left a luminous trail which will sparkle for many a generation to come.

The one-and-a-half minute video follows Mercury through the lyrics of the song, becoming a "shooting star leaping through the skies," riding a tiger, and driving a racing car.

Image: Google.