Canadian Space Robot Repairs International Space Station
R2D2 may look better, but Dextre the Canadian handyman can successfully repair a circuit breaker more than 200 miles away from Earth
R2D2 may look better, but Dextre the Canadian handyman can successfully repair a circuit breaker more than 200 miles away from Earth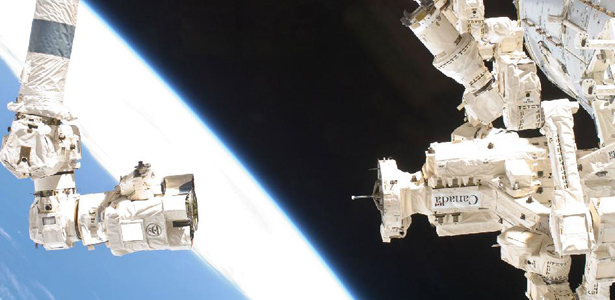 Dextre, a headless two-armed robot, has successfully completed repairs to a faulty circuit breaker on the outside of the orbiting International Space Station. The robot, named because of its notable dexterity, is Canada's contribution to the 15-nation mission.
Prior to Dextre's arrival at the Space Station, such a fix-it job would have required an astronaut to go on a spacewalk. Setting a robot to the task frees up time for the astronauts and is also safer. Dextre's latest task took 29 hours to complete and was controlled remotely by a team based in Houston.
Dextre began the mission by retrieving a Remote Power Control Module from a cargo container with one arm. It then removed a broken RPCM from the side of the station and replaced it with the new one. The robot put the old RPCM into the cargo container. NASA says the new RPCM is functioning well.
Image: NASA.