A Startup Website That's Crowdsourcing Vermont's Recovery
Two Vermonters, armed with a WordPress blog and their Twitter accounts, find themselves at the center of a grassroots relief effort
Two Vermonters, armed with a blog and their Twitter accounts, find themselves at the center of a grassroots relief effort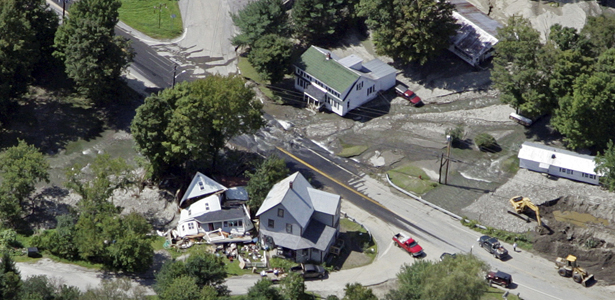 Last Sunday night, Matt Sisto of Burlington, Vermont, and Sarah Waterman of Winooski, Vermont, noticed #VTResponse trending on Twitter. People wanted to help the towns slammed by post-Irene flooding, but there wasn't a clear way to get involved. The next morning, Sisto and Waterman quickly set up a WordPress blog called VTResponse. They used Twitter to get the word out (they both had followers concentrated in Vermont), and by the end of the day their site had gotten 8,000 hits. On Tuesday it received 30,000, and yesterday about 45,000. They are now coordinating volunteer efforts in every corner of the state.
Sisto and Waterman have just the right set of skills to put this effort together. Sisto recently launched a Web-based business that had him coordinating a small network of blogs and Waterman had left grad school to volunteer in Katrina's wake in Biloxi, Mississippi, in 2005. She says that she wanted to set up the VTResponse site in part because of the memory of watching so many people ask for help and not get it in the Gulf region.
The site's homepage serves as the central posting place for informational updates. People who can help are directed to head to forums where they can offer their services. One offer titled "Heavy equipment operator eager to help," read "Just left the USAF after 10 years of service as a Heavy Equipment operator, certified on over 40 different types of machines. Will work for for free -- just need a piece of equipment or dump truck etc. I have a class A CDL. I live in Rockingham Vermont. Eager to get to work rebuilding Vermont!" There are dozens more of the same spirit. "Vermonters are very gung-ho about do-it-yourself and helping your community," Sisto says.
Sisto and Waterman estimate that about 80 percent of their hits are coming from within the state and about 10 percent from nearby areas in New Hampshire, Massachusetts, and New York.
In one case, Sisto and Waterman were able to coordinate an ATV driver familiar with the area's trails but who did not have an ATV, someone willing to lend his ATV, and a woman who was stockpiling necessary supplies such as diapers, food, and batteries. They connected all three people and delivered the supplies to the badly flooded and difficult-to-reach towns of Stockbridge, Pittsfield, and Gaysville.
Their efforts are supplementing those of state and local governments. "The state of Vermont is doing the best they can," says Waterman, "but because we don't deal with a lot of disasters on this scale here, they weren't quite ready for the beast that is volunteer management."
Asked whether such a grassroots coordination effort would have succeeded in 2005 after Hurricane Katrina, Waterman said, "I can not even imagine how I would have had this idea without Twitter."
Image: Reuters.