11 Interesting Things About the Umbrella
Humans on foot have one main technology for defending against the scourge of water falling from the sky: the umbrella. Umbrellas are, as Susan Orlean once noted, a magnet for the popular imagination. "[U]mbrellas are so ordinary that everyone thinks about them, and, because they're relatively simple, you don't need an advanced degree to imagine a way to redesign them,"
she wrote
, "but it's difficult to come up with an umbrella idea that hasn't already been done."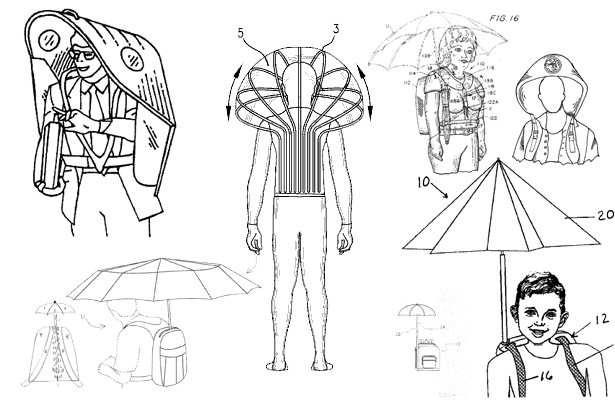 I started this post as the remnants of Hurricane Lee pounded the east coast last week. As soon as I finished, the sun came out and I just couldn't hit publish with blue sky outside. If it's not raining where you live, I recommend Instapapering this list for a rainy day.


No less than 11 patents have been filed for umbrellas that are incorporated into a backpack of some kind. (Some of these are seen in the image at the top of the page.)

The annual market for umbrellas, in the United States alone, is around $350 million
Most Chinese umbrellas are manufactured in the town of Songxia, population 110,000. The city produces 350 million umbrellas a year. Each worker is expected to sew 40 umbrellas an hour
You know when you almost get your eye poked out by an umbrella and you think, "Jesus! You are going to take out somebody's eye with that thing, you golf-umbrella loving a-hole!" Well, you're right to be afraid. Sometimes people do get seriously injured by umbrella spokes. The authors of one 1990 Japanese paper on umbrella injuries conclude, "We hope the fact that umbrella tips can easily become life-threatening objects will come to the attention of the general public so that similar cases may be avoided."
There is an Umbrella Cover Museum on an island off the coast of Maine. It's run by a woman named Nancy 3. Hoffman, who changed her middle name from Arlene to the integer in 1992. Hoffman plays the accordion and wrote a Barack Obama Polka (video).

The first boom in umbrella innovation occurred in the early 19th century. According to an early historian of the umbrella, Louis Octave Uzanne, "From 1808 to 1851 alone, we can reckon more than 103 patents for inventions and improvements relating to Umbrellas and Sunshades." Those improvements including an umbrella that was also a telescope and an umbrella that contained a pen. Uzanne found these inventions "genially grotesque," but he missed that one of them -- a method for manufacturing an umbrella that "opened itself" by "means of a mechanism placed inside the handle" -- would come to dominate umbrella technology.
Though umbrellas (and their sunny cousins parasols) are believed to have thousands of years of history, the folding umbrella was only created in 1928.
In 1991, the artist Christo installed giant yellow umbrellas in a California mountain pass. On October 26, wind blew over one of the 485-pound umbrellas, killing a woman.
One John Wilkes (not John Wilkes Booth) sent Abraham Lincoln a letter in 1864 requesting "a few dollars to buy a new [umbrella]" after Wilkes had broken his at a political meeting at the "Mozart Hall." The Ohio citizen wanted the money because even though he was "a hard working man" he couldn't afford one -- and he'd voted for Lincoln. Nothing in the historical record suggests that Lincoln was of the habit of buying random people umbrellas, nor is it clear why Wilkes would think that he would.
Those little cocktail umbrellas that come in tiki drinks? They date to the first half of the 20th century, very roughly.
Bulgarian defector Georgi Markov was murdered by an assassin wielding a poison-tipped umbrella while standing on Waterloo Bridge in London in 1978.