10 Years Can Be a Long Time: The World Wide Web on 9/11
Over the past 10 years, the basic features of how we live, communicate, and get our information have changed dramatically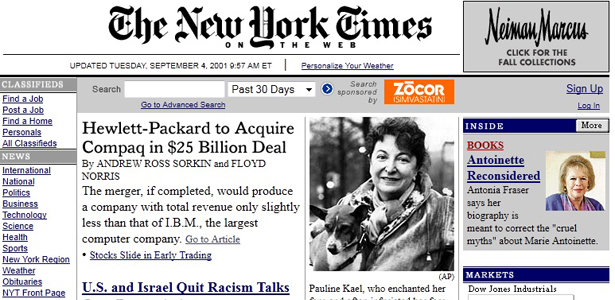 Among the many memories, surreal and sad, that I have of 9/11, one reveals something unsuspected about what life was like in 2001. As the news broke, my high school's librarians had set up a couple of TVs and students were arriving from all over the building to watch the live coverage. No one knew what the hell was going on. I said to some friends standing next to me, "You know, I think the
New York Times
has a website. Let's see what it says." None of us had ever looked at the page before.
This is, in the scheme of things, trivial. But I think it sticks out to me because it indicates facts that don't mesh with my memory of the event. In my memory, 9/11 is something that happened to a world much like ours, minus the political aftermath that 9/11 itself invoked. But that's not entirely the case. Ten years is not a long time by many measures, but these particular 10 years have wrought changes that make that media world almost unrecognizable. And those changes have crept up on us so stealthily that it's shocking now to realize how different that world was.
The story is simple: Many of the major features of how we live, communicate, and get our information today did not exist -- or at least were in their very nascent stages -- in 2001. The entire Internet had
500 million users
 and something like
3 million public websites
. HTML 4.0, which gave the web its basic features, had just entered its
final published state
. 
Facebook
and
Gmail
wouldn't launch for another three years;
Twitter
for another five.
Google was not yet a recognizable verb
. Another difference: No one at school had cell phones, let alone
wireless Internet access
. For those whose parents worked in Lower Manhattan, the school encouraged us to use the landlines in the guidance counselors' offices to try to get in touch.

After 9/11 the mantra was that the whole world never be the same again. And that's been true: The whole world has changed, but not solely because of the terrorist attacks.

Image: The New York Times/archive.org.