Why I Like Media Experiments
During the time when I'd normally have written a blog post or two, gone on a long run, and made some tortilla soup, the world had helped us to create several brand new things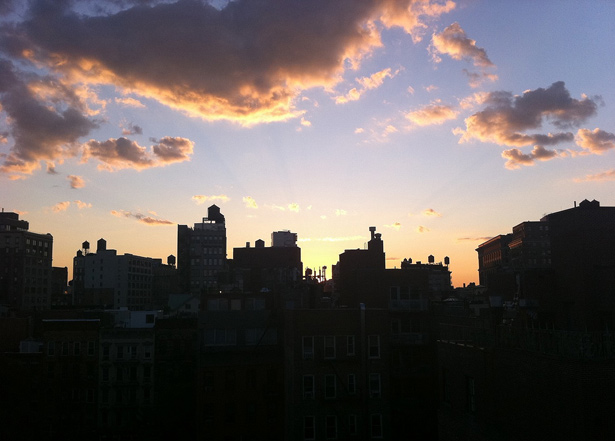 It was 2:45 p.m., fifteen minutes before the end of the 48-hour period we'd assigned ourselves to complete the third issue of Longshot Magazine, a project I cofounded. As we surveyed the offices at Gawker, checking in on our digital team, which had built a website from scratch, and our print designers, who had done the same, we realized something: we weren't going to make it.
Everything was 99 percent done, but that last percent was tough enough that we weren't even going to be close enough to declare victory and go have a beer before applying the finishing touches later in the afternoon.
It was a tense moment. Despite the almost total lack of sleep, the weekend had gone remarkably well. Gawker's Joel Johnson was a fantastic host and the offices were amazing. Hundreds and hundreds of essays, interviews, and other articles came in, the product of people's sweat and tears. So many of them were good. Like, really good. We were simultaneously high on the quality and heartbroken that they wouldn't all go into the print magazine. (I have never been able to adequately describe the horrible feeling of going through submissions for Longshot. I have so much gratitude for everyone who chooses to spend their Friday and Saturday working on something for the magazine. And yet I know we will disappoint and/or anger some of the very people whose work I admire.)
Dozens of other editors cycled through. A couple, like Choire Sicha and Molly Oswaks, stayed for nearly the entire time. I want to call out her contribution because she made some incredible and difficult edits. We hadn't laid eyes on her before Friday night, but by Sunday evening, I realized I'd trust her in any media trench on Earth.
People like Molly and Jon Snyder and Rachel Swaby and Nick Jackson and Chloe Daley and Angela Watercutter and Andrew Losowsky and Erin Biba and Adrian Covert (and many more) put in absolutely heroic efforts blindreading submission after submission, then turned to editing. Some of them we know really well. Others we'd never met. Mostly, they self-organized as my fellow co-founders Mat Honan, Sarah Rich, and I tried to figure out what our products should look like.
It was a ridiculous project, more so than our previous experiments in this vein. We were aiming for 68 pages of magazine, a new Longshot Radio section, and a website with the same copy as the print edition. Beyond that, we wanted an interesting model for a nagwall that would allow you to circumvent it easily by paying $1, $5, or $20 or sharing the story that you're reading. We were building it all from nothing in one weekend.
Unbelievably, in the morning on Sunday, we were thinking we'd finish everything up early. Geoff Halber and Kyle Blue, who designed the magazine, had it all just about done. Adam Hemphill who led the Web efforts with an incredible team of young and brilliant coders, thought he'd have the site up, too. We were ahead of schedule.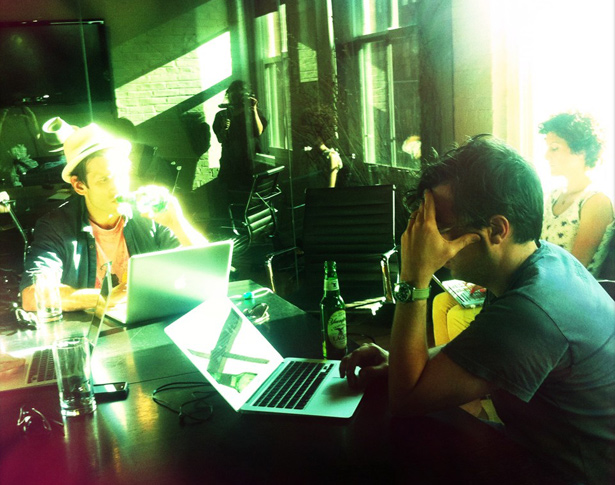 Looking back on how we got from 8 a.m. to 2:45 p.m., I can already see some of the stumbling blocks. A couple were out of our control: when you bring in a ton of people onto the same Wi-Fi network, some weird stuff happens. Our designers were having trouble sharing files back and forth, slowing everything down. Then, our main printer broke, which stopped our copyediting process in its tracks. Half our design team was essentially sidelined as he waited for more edits. We had a server problem that slowed the Web team down, though its details now escape me (if I ever really understood them in the first place).
Other problems maybe we could have seen coming. When you're trying to simultaneously get copy into a magazine and onto the Web at the same moment, you encounter this awful problem. If you fork the text early, you need to run two separate copyediting processes. If you fork late, you have to wait on the print copyedit to be finished before you can get the text to the Web. We chose the tougher path -- in part due to my urging -- that we fork early and work more. That really, really complicated the copyedit process and created a ton of confusion about what text should go where. It made stamping out bugs and mistakes three times as difficult to stamp out. We had two canonical versions and then a host of paper and digital bits floating in between. Messy, messy.
And yet, to me, this is precisely why it's worth it to me to do Longshot. So many things work in theory. So many things sound relatively easy. But actually trying to execute is a whole nother thing, as they say where I'm from.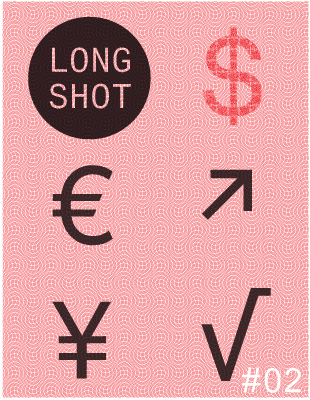 The magazine is beautiful. Of course I'd say that, but really, it is. You should check it out. The Everything Type Company is outstanding.
But I want to highlight a couple other things. The Longshot Radio production, led by Jody Avirgan with major help from Alex Goldmark, Pat Walters, and Emma Jacobs, and development by Dylan Fareed, is both awesome and superslick. I helped Emma get one of her first jobs, working on Haiti Rewired, a project we launched at Wired.com. Though I was sort of her boss, we only met twice. Now she's a seasoned radio producer who set up a recording booth at McNally Jackson Bookstore and pulled in awesome stories of debt from people who came in. Watching her just kick ass was beautiful and heartwarming. Not that I expected less, but watching someone come into her own is awesome. (The other person we hired for Haiti Rewired, Arikia Millikan, did a tremendous, tremendous amount of tough work with the digital team, too!)
Turning to digital, I think the porous paywall that the digital team built is a triumph. It's designed to be really porous and to aid rather than prevent sharing. Regardless of what you think about its conceptual design, we got a newfangled paywall built in two days! That's what we mean when we say that Longshot is about rapid media prototyping.
At about 3:30 p.m., the Longshot Radio site was complete. The full site went live a couple of hours later. Around 9 o'clock last night, our designers completed the upload to our print-on-demand service, Magcloud, and the print magazine went on sale. There are still some bugs and a few typos. We genuinely regret every error.
As soon as the upload finished, I tossed the PDF onto my computer, raced down the four flights of stairs, and out into the street. People were strolling contently down the streets, bellies full of New York's fine food and drink. Heat emanated from the sidewalks. Cabs buzzed around. The frenzy was over. During the time when I'd normally have written a blog post or two, gone on a long run, and made some tortilla soup, the world had helped us make a new thing during our crazy experiment.
I hailed a cab, kissed Sarah goodbye, and took a ride to Penn Station just in time ... to find out that my train was delayed. Sweaty, unshowered, running on two hours of sleep in two days, I stared at the big board of numbers.
Reality really doesn't care about getting the ending right.
Images: Alexis Madrigal.