What the London Police Can Learn From Vancouver's Riot Investigation
The new big problem for law enforcement is common to many industries: too much data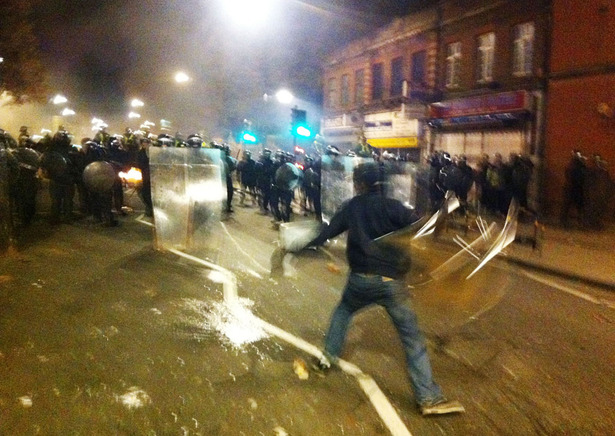 In June, Vancouver burst into violence precipitated by the Stanley Cup final. The riot rocked the beautiful city, leaving city leaders to piece together what happened. They appointed a task force, which called on citizens and businesses to submit their photos and video of the riot to the police. The 50-person team plans to release its initial findings at the end of the August, two and a half months after the night of rioting.
In some ways, that small civil disturbance and its aftermath presage the task that the London police will face in the coming months. And if their work is any indication, UK police have a brutal few months of investigation ahead of them. While the state of surveillance is very different in the two municipalities, they share a common feature: there is just too much video to review quickly.
In Vancouver, they had about 1,500 hours of video to review, according to the task force's most recent statistics. London police will undoubtedly have far, far more hours. As Becca Rosen explained yesterday, London is blanketed with 8,300 CCTV cameras that are supposed to serve as crime deterrents.
Let's look at some of the math. Imagine a quarter of those have seen some incident during this four-night stretch. That's 2,081 cameras filming for 32 hours (four nights worth). That's 66,576 hours of video.
Just to watch that video once through would require 8,322 person-days of work. Throwing a force of 200 at the task, you'd finish a once-through in 41 days. Then add in the precision work of finding the right screen captures and tweaking them for maximum visibility. Then imagine using citizen media like the Vancouver police did.
Of course, there have got to be all kinds of heuristics and shortcuts for cutting down the time it takes to search through tons of video. But the fact remains that the investigation will probably drag on for months and months.
Welcome to the future of law enforcement. The long-time problem of having too little information has transformed into its exact opposite, too much. Humans can produce more data than they can readily analyze. That's one reason why some are speculating that facial recognition technology will be deployed on a large-scale to solve this data problem.
But really, facial recognition is just the beginning. What investigator wouldn't want a Google for video? And that's actually what the Intelligence Advanced Research Projects Activity, the spy agencies' far-out research wing, is trying to build. They solicited proposals on this topic last year. 11 companies responded including Northrop Grumman, Raytheon, and several other defense contractors.
Image: Getty Images.