Walmart, Unable to Keep Up With iTunes, Shutters MP3 Store
Launched as a direct competitor to iTunes, Walmart's digital download destination undercut Apple's prices, but still couldn't compete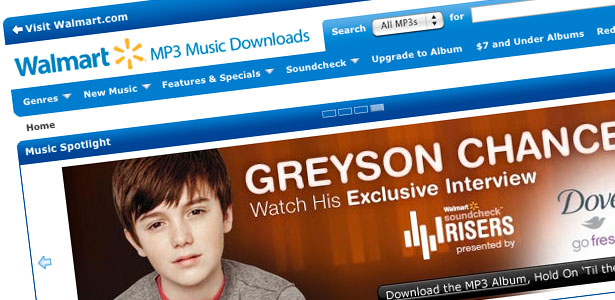 Apple has taken down another competitor. And this time it's not some tiny start-up in San Francisco or a couple of guys working out of their mom's basement. This time, it's significant. This time, it's Walmart, the biggest private employer in the world, with more than two million employees, and one of the largest public corporations when ranked by revenue.
Today, Walmart announced that it was throwing in the towel. At the end of the month, the company will shutter its MP3 download store, proving that, when it comes to music downloads, price isn't the only thing that matters. Customers, it turns out, are also interested in interface quality and integration with popular Apple products, like the iPod, iPhone and iPad.
Launched in 2004 as a direct competitor to Apple's iTunes music store, Walmart's digital download destination has been using its considerable muscle in the retail space and reputation as a discounter to undercut Apple's prices. When single tracks sold on iTunes for 99 cents, they sold on Walmart's MP3 store for 88 cents. When Apple offered popular singles at $1.29, Walmart was able to beat that by five cents, pricing the tunes at $1.24 each.
"After eight years in business, the Walmart Music Downloads Store located at mp3.walmart.com will close on August 28, 2011. All content in the Store will be disabled and no longer available for download from the store," according to a certified letter that was shared exclusively with Digital Music News, a music industry website. "The sale of physical record music products on Walmart.com as well as in Walmart U.S. retail store will remain unaffected. Walmart Soundcheck (soundcheck.walmart.com) will remain operational as a live streaming site without any download options."
An executive confirmed that the store would be shutting its virtual doors with Digital Music News' Alexandra Osorio, but did not provide further explanation.
Image: mp3.walmart.com.