Unimate: The Story of George Devol and the First Robotic Arm
For 50 years, George Devol's invention has been speeding up production lines at manufacturing plants around the world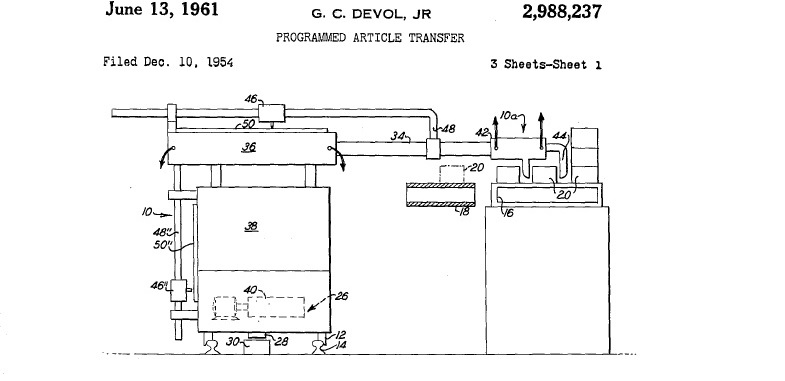 Last week, at his home in Wilton, Connecticut, George Devol, the inventor of the first industrial robotic arm passed away.
Devol's invention has reshaped production lines around the world. Famously first embraced by the Japanese, robotic arms are now hard at work in the production of everything from cars to pancakes.
Devol received his patent for "Programmed Article Transfer" in 1961. The patent begins:
The present invention relates to the automatic operation of machinery, particularly the handling apparatus, and to automatic control apparatus suited for such machinery.
The first robotic arm was installed at the General Motors plant in Ewing Township, New Jersey, lifting and stacking hot metal parts. The arm weighed 4,000 pounds and cost $25,000. Today, one of the early models is housed by the Smithsonian's National Museum of American History, though it is not currently on display.
The Ewing Township plant closed permanently in 1998. In 2010, the Motors Liquidation Company ("Old GM") agreed to provide $10.5 million to clean up the site.
Kasia Cieplak-Mary von Baldegg has up on the Video channel a clip of Unimation Inc.'s president, Joseph Engelberger, demonstrating the robotic arm on Johnny Carson's Tonight Show in 1966.

Image: United States Patent and Trademark Office.