Unfazed by Google's Algorithm Changes, Demand Media Expands
The much-derided content farm saw a drop in traffic generated by Google, but pageviews were up 31 percent over the past six months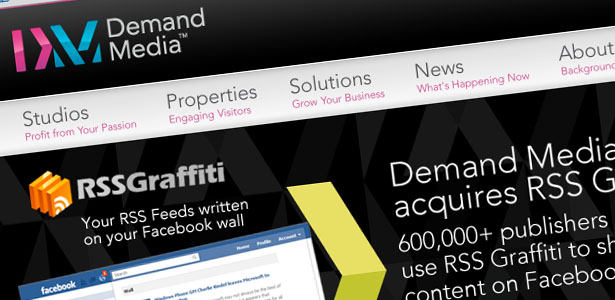 In a second quarter earnings call on Tuesday afternoon, Demand Media CEO Richard Rosenblatt brushed off Panda, the recent Google algorithm update that many thought would cripple the content farm. While the site, which uses cheap freelancers to generate extremely specific articles built around SEO keywords and Internet buzz, saw a drop in traffic generated by Google (from 66 percent to 59 percent), pageviews were up 31 percent over the past six months. Overall revenue was also up, jumping 39 percent from the first half of 2010 to the first half of 2011 and reaching nearly $159 million.
There was one downside to Demand Media's report: Loss from operations increased to more than $5 million. Part of that is directly tied to Panda -- to get around Google's changes, Demand is paying more for content, spending to screen for plagiarism and sometimes rewriting and editing stories -- but another part is spending to move Demand in a new direction.
"We're in the process of expanding our platform to act as a socially-driven recommendation engine for content," Rosenblatt said during the call. "This is much like what Amazon does for products or Netflix does for movies. We believe we are uniquely positioned to do this because our platform was designed from the beginning to integrate consumer signals."
What does that mean? It means keying into a consumer's "interest graph," Rosenblatt said, according to Forbes. "[I]f you have enough data, you can suggest to people the things they didn't even know they needed." In order to reach a larger audience so that it can tell them what they need before they even know they need it -- and drive traffic back to its own sites -- Demand spent $14 million to acquire IndieClick Media, an advertising startup.
Los Angeles-based IndieClick currently reaches more than 27 million monthly readers, most of them in the key 18- to 34-year-old demographic. Its small team represents Village Voice, the Awl, Current TV and a number of other hip media companies, serving advertisements from third parties against their content in exclusive deals that can fetch up to $20 per 1,000 impressions. Demand's deal with IndieClick is "centered around getting the advertisers to recognize it as a premium content aggregator and, the company hopes, ensure that the term 'content farm' never touches it again," according to PaidContent's David Kaplan.
But Demand Media didn't stop with IndieClick, even if it is a significant acquisition for a company of Demand's current size. It also purchased RSS Graffiti, a social media developer that makes products primarily for Facebook. These two buys show just how aggressively Demand is planning to move in the coming quarters. The company expects to post sales in excess of $78 million for the third quarter. And investors have faith: With tech stocks battered (again) and the market as a whole down, Demand shares have been trading up all day.
Image: Demand Media.