To Be the Most Powerful Gay Man in Tech, Cook Needs to Come Out
Top Apple executives claim to be supportive, but worry that if Tim Cook comes out, the public perception of Apple could be harmed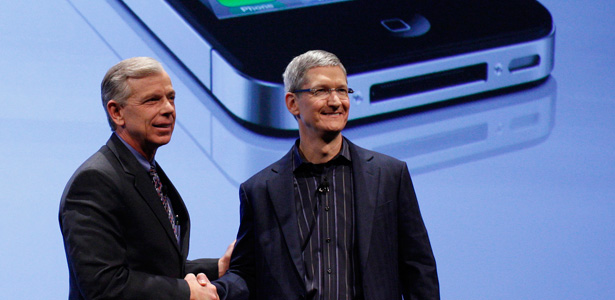 Tim Cook, Apple's CEO now that Steve Jobs has announced his resignation, has been described as being both intensely private and a life-long bachelor, but it wasn't until this year that rumors started to spread that he was gay.
Cook has been working with Jobs for more than 13 years, having joined Apple in March 1998. And he has long been running the company's day-to-day operations. But the laser-like focus of the tech-blogging community was not turned to him until Jobs, Apple's iconic figurehead, announced his most recent medical leave in January of this year. It was then that Valleywag, a Gawker property that covers Silicon Valley, outed Cook with two anonymous sources, making a joke of the whole situation. "[O]ur tech executive source claims Cook is into Asian guys, a tidbit that prompted another tech observer, with whom we shared the item, to propose some strategic matchmaking that would pair Cook with Google hotshot Ben Ling," Ryan Tate wrote.
Four months later, Out magazine bumped down talk-show host Ellen Degeneres to place Cook at the top of its annual Power 50 index, a list that ranks the most influential gay and lesbian individuals at the time.
When it spread late yesterday that Jobs was stepping down, Twitter was abuzz with the news. After all had inquired about Steve Jobs's health and Apple's succession plan, attention returned to Cook. Wait a minute, a couple of the people I follow asked, is Tim Cook now the most powerful gay person in tech? Yes, with a move to the top of Apple's ladder placing him ahead of Megan Smith, vice president of new business development at Google; Lisa Brummel, Microsoft's head of human resources; and a handful of others.
The Twitter talk was followed this morning by a report in the Herald Sun built on top of positive reactions from a couple of spokespeople for equality. "I think that it's a fantastic development," Nareen Young, CEO of Diversity Council of Australia, told the paper. "What it reinforces is that gay and lesbian people are everywhere and the fact that they are reaching the senior echelons of business is an achievement."
It is an achievement. One to be proud of.
"There are still many gay and lesbian people at high levels of the corporate world who are afraid to come out," Rodney Croome, the spokesman for Australian Marriage Equality, added. "Cook's appointment will help open the corporate closet."
Just one problem there. Cook is one of those at the high levels who is afraid to publicly confirm his homosexuality. And he won't be a role model for the LGBT community until he confirms the rumors and comes out of the glass closet he is assumed to be living in.
Apple is widely regarded as a gay-friendly company (a survey of consumers conducted a few years ago found that Apple was ranked as one of the most gay-friendly companies, second only to the Bravo network) and those at the top, when asked, said they would continue to support Cook if he came out. But they also worry that a gay executive could harm the perception of Apple's brand, according to Queerty. Would an openly gay CEO -- not a bad product, not a flawed program -- hurt the house that Jobs built?
Image: Reuters.