This Chart Proves Steve Jobs Is the Best CEO of This Generation
Forget the turtlenecks. Forget the "magical" products. Forget the masterful presentations. Ignore all the anecdotal mystique that surrounds Steve Jobs. Just go by the bottom line. That's why Steve Jobs is the best CEO in at least the last 30 years.
No other CEO has been able to generate the net income growth that Steve Jobs has. And no other CEO has been able to keep it going for quarter after quarter, year after year. Averaged over his tenure, Apple's net income has grown $144 million per quarter. Only Google's Eric Schmidt is even in the ballpark. During the time he was CEO and the company was public, Google's net income increased an average of $95 million per quarter. The next best number is IBM's current CEO, Sam Palmisano, and Jobs generated more than twice as much net income growth as IBM's chief.
Meanwhile, in his last quarter as CEO, his company generated almost twice the net income as Jack Welch's GE did in his last quarter.
Here's the chart that tells these stories -- both of billions of dollars made and continued fast income growth. The x-axis is the total net income of the company in question in the last quarter of the CEO's tenure. The y-axis looks at income growth per quarter averaged over the full tenure of each of these legendary CEOs. By both of these metrics, Steve Jobs is in a class by himself.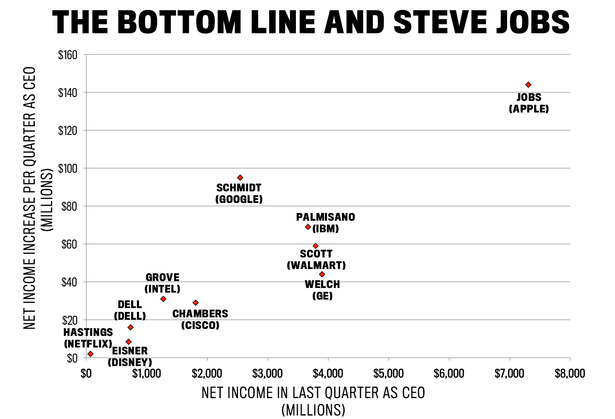 (Note that some CEOs come on halfway through a quarter and that there are other complications, but those complexities don't make much of a difference in the overall analysis.)
If you want to see my rather messy spreadsheet through which I generated these numbers (and which includes a lot more data), check out
this Google Doc
.