The Vinci: A 7-Inch Tablet Computer Designed for Babies
The touch-screen device designed to start babies on the path to digital literacy is the latest in a long string of luxury parenting items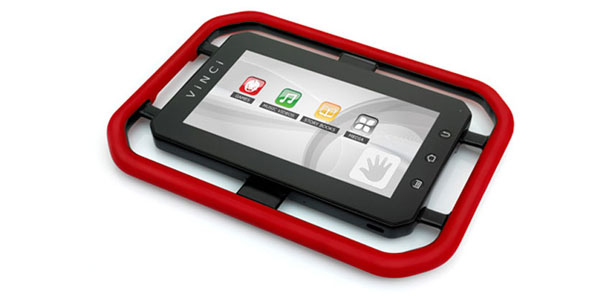 For just $389 you can get your kid started on the path to digital literacy before they even know how to read.
This month, Vinci, the 7-inch touch-pad tablet displayed above, will go on sale through Amazon, which is already accepting pre-orders. "The Vinci is not an imitation -- it is a real touch-screen Android-based product, bringing the most advanced technology to the benefit of our youngest citizens," according to the product's website.*
LUXURY PARENTING ITEMS:
Bugaboo stroller
: $880
Glider breastfeeding rocker
: $189
Organic crib mattress
: $395
Modern bassinet
: $999
Sophie giraffe
: $23 
Pottery Barn play kitchen
: $250-$700
Modern Playhouse
: $1,299
Early Rider
: $180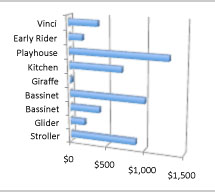 Designed to compete with LeapFrog's new LeapPad, a $99 tablet aimed at 4- to 9-year-olds, the Vinci targets an even younger audience (0- to 4-year-olds) -- one it could potentially grow up with for some time. With its protective soft-corner case, this tablet is meant to last. And don't let the non-toxic packaging or the durable handles fool you: This is far different than any other electronics you'll find in the baby aisle. Vinci lacks Wi-Fi or 3G capability, but, with a Cortex A8 processor and 4GB of internal storage, it still packs a serious punch -- it's even outfitted with a built-in microphone and a 3-megapixel built-in camera to capture that special moment when your child first realizes just powerful our current computing technology is.
Or when he or she first sees a music video. While the possibilities for this tablet are fairly limitless, Vinci is being launched with a three-pronged content strategy: games, music videos and storybooks. The games designed by Vinci are meant to promote active learning and "to help parents and children explore, talk and learn together within a real world context." The music videos come from "Baby Haha's Music Videos Vol. 1," an album designed specifically for the Vinci to help children develop a variety of cognitive and motor skills. And the storybooks are similar to traditional e-books, but complete with animations and voice prompts that children can interact with using the tablet's touch-screen.
Dr. Dan D. Yang, the telecom entrepreneur who invented the Vinci, came up with the idea for a baby-focused tablet when she noticed how much her daughter liked to play with her smartphone, according to Vinci's website. But that raises a question: Are you so tethered to your iPhone or iPad that you can't allow your baby to play with it, to press a couple of buttons and watch a couple of videos, every once in a while?
*Update, 1:11 p.m.: This article originally implied that the Vinci is a new business venture from Amazon. In fact, Amazon is unaffiliated with this product. It is just selling the Vinci through its online store, where it makes tablets from many manufacturers available.
Image: Vinci; Sidebar: Sarah Rich.