The Hacking Tyler, Texas, Project: Racial Diversity in Smith County
This is the latest installment in Christopher Groskopf's attempt to open up the data of the town in Texas to which he's moving. Read about the genesis of the project here.
Note: It has been nearly six weeks since I last wrote on Hack Tyler. I expected some of this for the reasons outlined in my last post, however, the delay was extended by a two week period during which I thought I might not be moving to Tyler after all. This has turned out not to be the case. The exact dates are still undetermined, but I will be moving in the Fall.
Since starting Hack Tyler I've wanted to collaborate with locals who know the place better than I. For this post I invited Mike Rogue, a native of Tyler and student at the University of Richmond, to publish in tandem with me. Read his thoughtful reflections on race in Tyler at his blog, Highways and Hallowed Halls.
In the last decade the population of Tyler grew 15.8% to 96,900, not quite keeping pace with the growth of Texas or Smith County, both of which topped 20%. Over the same time period Tyler's Hispanic population grew 55% to 20,511 -- the city's most significant demographic shift of the decade. These and numerous other insights can be gleaned from the Summary File 1 (SF1) census release, which was made available for Texas on Thursday.
The SF1 is what is most commonly thought of as the "big" census release. It contains very granular population counts summarized by race, family status, age, sex, housing status and a variety other subjects. This is the data that is commonly used by newspapers, city planners, and demographers to make informative maps, plan services, and project population trends, respectively. I've spent much of the last six months analyzing census data for my work at the Chicago Tribune, which last week culminated in the release of detailed maps of same-sex relationships and children under five years old for the Chicagoland area.
Over the last few evenings I've taken advantage of my access to the embargoed census data to use these same techniques to prepare race maps for Tyler and wider Smith County. Many thanks to my fellow news applications hackers for allowing me to recycle our source code for generating map tiles and presenting them online. Click the screenshot to view the map. (Then come back and keep reading!)
2010 Census: Racial diversity in Smith County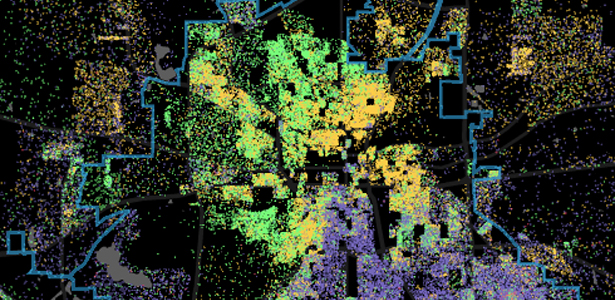 Tyler, like most American cities, is visibly segregated along racial lines. Blacks and Hispanics occupy the areas north and west of downtown, though those two groups are themselves more integrated than I would have expected. (Chicago's extreme segregation has hyper-sensitized me to trends such as these.) The eastern and southern parts of Tyler are predominantly white, though some areas are more racially integrated.
A few things to look for on the map:
Dense clusters of mixed race frequently indicate group quarters, such as the Smith County jail, or student housing on the UT Tyler campus. Others mark apartment buildings and developments of townhouses.
The racial trends continue beyond the city, with most Hispanics living to the north of the city and most whites living to the south.
Whites are both more spread out and more populous in the rural areas of Smith County, accounting for over 62% of the county's total population (Tyler included).
White residents particularly cluster in the lakefront communities around Lake Tyler and Saline Bay.
Though its less visible in the map it's also worth noting that the Asian population in Tyler spiked by over 125% to 1,807. Though this represents only 1.9% of Tyler's 2010 population it outpaces an already dramatic 71% surge in the total Asian population of Texas.
Want more census data? Be sure to check out the Texas Tribune's excellent statewide coverage. If you want even more detail, a good place to start is census.ire.org, a public project of Investigative Reporters and Editors created to make working with census data easier. Follow this link to jump straight to Tyler and a subset of tables that informed the map and this post.
If there is a particular aspect of Tyler's demography you're interested in, please leave a comment. There are many more maps to be made.