The Fall of Groupon: Is the Daily Deals Site Running Out of Cash?
The company is stuck in a sort of Catch-22: Groupon must spend to grow, but must continue growing to cover its operational expenditures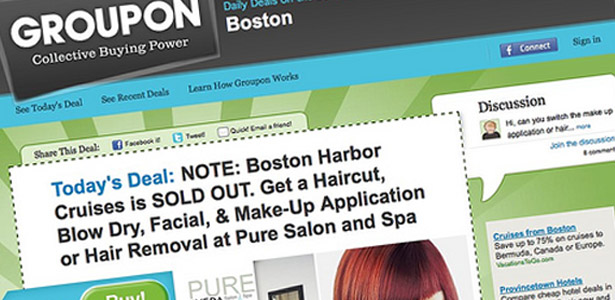 As of June 30, Groupon had $225 million in cash on hand, according to an amended S-1 the daily-deals website filed with the Securities and Exchange Commission. Sounds like a lot. The problem: The company still owed $392 million to merchants for Groupons that had already been sold and used up by its customers. While it's assumed that the company could raise more capital on the private markets if it needs it, Groupon's accounting sheets are trending in the wrong direction.
Groupon continues to bleed money, losing $103 million in the second quarter of this year alone. It's famous for spending tens of millions on marketing and has to continue spending to keep up its rapid expansion into new markets and growth in existing ones. This has put the company into a sort of Catch-22: Groupon must spend to grow, but must continue growing to cover its operational expenditures.
At what point does the company reach stability? Can it? There are some troubling signs that it won't be able to. Groupon's largest and oldest market, Boston, is starting to deteriorate. There, the site is spending wildly on advertising to bring in more subscribers, a number that has continued to grow. But, despite a larger audience and increased marketing budgets, Groupon is selling fewer coupons per subscriber and merchants that work with the company are making less on each deal.
Groupon is covering all of its costs by selling more and more coupons overall. The way that the company is set up, Groupon doesn't have to pay its merchants until 60 days after a deal closes. So, with continued growth, Groupon is bringing in money to pay off old debts, but its debts continue to grow, too. "As of June 30, Groupon had $680 million in current liabilities -- bills the company has to pay," Business Insider's Henry Blodget pointed out earlier this week. "Meanwhile, Groupon only had $376 million of current assets with which to pay them." That means Groupon has a large working capital deficit, or more near-term bills than it can cover.
This model is only sustainable is you assume an infinite number of markets and an ability to keep the competition under control. But the daily-deals market has been heating up ever since Groupon first saw signs of success and it has reached a boiling point. Several times a week, my inbox is hit with a press release announcing the founding or the expansion of another deals site, another Groupon competitor. Individually, these competitors can't take on Groupon. In the aggregate, though, they can deal a serious blow. Without the enormous staff and unavoidable bills that come with an operation of this size -- rent, salaries, benefits, Web hosting, etc. -- competitors to Groupon can challenge the granddaddy in individual markets all over the world by offering deals more favorable to merchants and/or consumers.
The coming Groupon IPO was supposed to inject the company with plenty of cash to keep it afloat for a while, but there are problems there, too. The company has not yet set a date for the IPO, in which it hopes to raise up to $750 million on the back of a valuation approaching $25 billion, but Groupon executives are hoping to hold the IPO sometime in the next month or so, according to CNBC. Presumably, this is to get shares on the public market before another devastating quarterly earnings report is released, driving down interest and valuation models. But, with stocks taking a significant hit over the past couple of weeks, an IPO in this climate won't bring in nearly as much as was first predicted.
On June 2, the date that Groupon officially announced its IPO by filing with the SEC, the DOW was trading at 12,248. Today, it's worth celebrating when the market climbs above 11,000. What does that mean for Groupon, though? Well, maybe an IPO that values the company at less than half -- $10 billion, one insider told Business Insider's Nicholas Carlson -- of what it thought it could have had just two months ago. And a lot less cash. Maybe Groupon should have taken that $6 billion offer from Google more seriously.
Image: Groupon.