The Age of the Fax Machine Is (Finally) Coming to an End
The facsimile machine, used to transmit documents over telephone lines, has seen little improvement since it debuted in the mid-1970s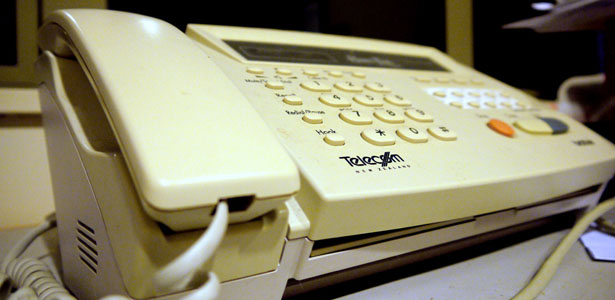 It's a rainy day in San Francisco and Ben Fong-Torres, one of the early Rolling Stone employees, is standing inside of the "copy-strewn office of the young editor/publisher JANN WENNER," according to the original screenplay. Fong-Torres is on the phone with William Miller, the protagonist from Cameron Crowe's Almost Famous, explaining that Miller's still-unwritten piece on the band Stillwater has been selected for the cover. "Allison, our fact checker, needs you to transmit whatever you have of the story, tonight, now, along with your notes," Fong-Torres says. "There is a mojo at the Daily News they'll let us use...." Miller has no idea what a mojo is. Fong-Torres explains: "It's a very modern machine that transmits pages over the telephone. It only takes eighteen minutes a page...." (Emphasis is original.)
It's a joke that always elicits a chuckle -- and I make a point of watching Almost Famous once a year or so. In the age of email and text messaging and Twitter, taking 18 minutes to transmit anything is absurd. Even my AOL dial-up didn't take that long to connect back in 1996. But the joke is really on us, because, while it doesn't take more than a quarter of an hour, we're still using the fax machine.
It is not, nor has it ever been, a mojo -- that's just the name legendary counterculture journalist Hunter S. Thompson gave the machine when he used it to send in his long, drug-addled Rolling Stone pieces. That term has always meant something magical and, at least since Mike Myers created his Austin Powers character, something a little cooler, something a little more shagadelic, baby, than a fax machine.
The facsimile machine is a tired, clunky object used to send documents over a telephone line. The fax, at least as we know it, came into being in the mid-1970s (Almost Famous is set in 1973), when optical scanning, modulator and acoustic coupler technologies all came together. The process is fairly basic, and shouldn't have lasted into the Internet Age almost unchanged. Somehow, though, the fax machine has managed to survive. Like Horseshoe crabs or those giant flies in the jungles of South America, these things are positively Prehistoric -- and have proven nearly unkillable.
Today, you can find a fax machine in any dusty old office that still needs to transmit signed copies of paperwork -- or in your nearest office supplies store. The chains have made an easy business out of charging too much to fax a couple of pages here or there; they know that the majority of their customers -- even those who might purchase Post-It notes and staplers to take back to their dusty old offices -- are without access to a fax machine but, every once in a great while, find that one would come in handy.
That could be changing. The end of the fax machine may finally be here. So, clear out that corner of the office and buy your employees a dart board to fill the space, because we're about to take e-signatures to the tubes.
* * *
In mid-July, Adobe acquired EchoSign. Jason Lemkin, EchoSign's CEO, announced the news is an extremely excited blog post: "We're extremely pleased to announce that EchoSign is now part of the Acrobat family -- Adobe has acquired EchoSign," he wrote. (First emphasis my own; second is original.) The purchase kicked off a string of threatening notes and discussions when RPost, an EchoSign competitor, filed a suit for patent infringement against Adobe. Contract management rarely gets this exciting, Spend Matters pointed out.
A contract management and electronic signature company, EchoSign raised millions of dollars since 2005 to build a service that allows you to sign all of your documents online. EchoSign makes it possible to sign your documents saved on its system via fax machine, but that's only because the company has adopted as many platforms as possible; You can also sign documents in any browser; with a BlackBerry or iPhone; or via an EchoSign widget, which can be added to any website. EchoSign offers integration with Google Docs, DropBox, SugarCRM, NetSuite, Evernote and a host of other document programs on the Web.
EchoSign made money by charging monthly subscription fees for advanced levels of its four-tier membership program, but most people never paid to use the service; For five or fewer signatures every month, EchoSign was free.
I switched to the past tense there because it isn't yet clear how EchoSign will work going forward. One thing is certain: Adobe plans to integrate the service with its document-handling software, including CreatePDF and FormsCentral. This integration will introduce millions of existing customers to the world of electronic signatures.
Small business owners, like Gene Marks, are rejoicing. "Our cash flow is going to improve," Marks wrote on Forbes. "As will the cash flow for many of the millions of small and medium-sized companies over the next few years." Why? Because instead of mailing contracts and paperwork and waiting for signatures and approval over a period of weeks or even months, small businesses will be able to reduce their completion rate to just hours.
EchoSign isn't the only player in this space and there have been competitive services available to small business owners and individuals for years. One major alternative to EchoSign, DocuSign, has eight million customers and has overseen the signing of more than 70 million documents since 2004. But Adobe's decision to enter this market provides much-needed validation to electronic signatures, which many people still believe are illegal or a complete mystery, according to Marks.
"With Adobe's brand, reach and trust in the document space, I fully expect that electronic signatures will soon become the common way for people to sign documents," Lemkin said in his announcement of the acquisition. His team, based in Palo Alto, California, will join Adobe full-time and continue to oversee their product.
Image: Yortw/Flickr.