Tech Stocks Are Doing Pretty Well, S&P Downgrade Considered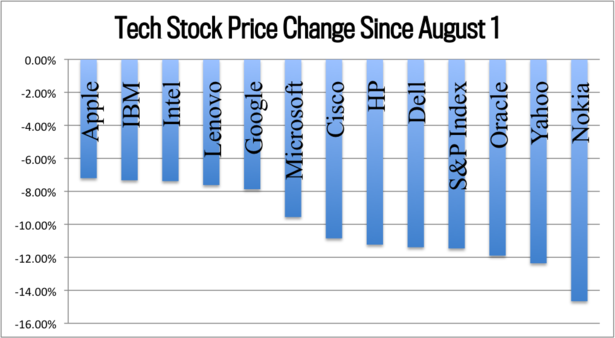 Financial news is pretty awful these days. The S&P 500 is down more than 11 percent since the start of the month and even the tech blue chips are hurting. Apple's down three percent just today. But since the market bloodbath began at the beginning of the month, tech stocks have actually been a pretty good place to be. Only Oracle, Yahoo, and Nokia have fallen more than the S&P average, whereas Apple, IBM, and Intel have all handily beat the market.
Then again, it takes a pretty awful week in the stock market to be celebrating seven percent retreats.
Chart: Alexis Madrigal.