Picture of the Day: What a Shooting Star Looks Like From Space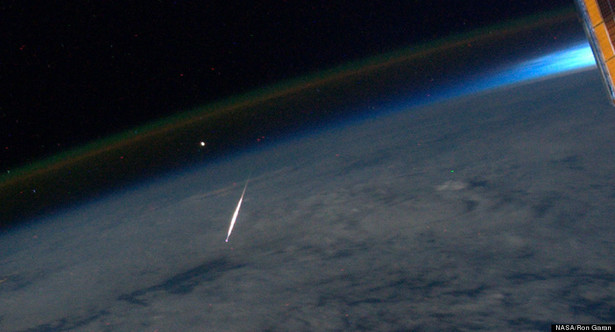 Four months into a six-month stay aboard the International Space Station (ISS) as a member of Expedition 27, astronaut Ron Garan, Jr., has been tweeting incredible photos from space. Over the weekend, Garan sent out the image embedded above, which has been making waves in the science blogging community. You can see why: It's incredible. Simple.
Garan's photograph is of a shooting star. He captured it during the Perseid meteor shower. At the time the photo was taken, according to Discover magazine's Phil Plait, the ISS was about 220 miles above the border that China shares with Mongolia. "Wow!" Plait added. "How cool would it be to look down to see a falling star." While Plait points out that this could be an isolated shooting star, it's probable that the object captured by Garan is part of the Perseid meteor shower. "For an observer on Earth, the Perseids rain down at a rate of about 60 per hour or so," according to Plait. "You can usually see about 5 meteors per hour that are just random bits of cosmic detritus. So only 1 meteor in 12 is not a real Perseid, making it likely this one was."
View more Pictures of the Day.