Picture of the Day: The Moon Enceladus Shoots Water at Saturn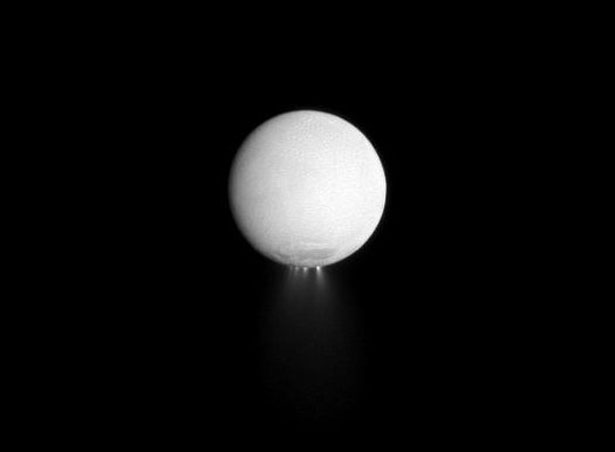 Astronomers have long known, thanks to the European Space Agency's Infrared Space Observatory, that Saturn's upper atmosphere is home to gaseous water. But they had no idea where it was coming from. Until now. The ESA's Herschel Observatory has spotted enormous water jets coming from the moon Enceladus. "That makes Enceladus the only moon in our solar system to actively influence the chemistry of its parent planet, defining a new kind of relationship between host planet and satellite," according to Popular Science's Clay Dillow.

Enceladus gives off about 550 pounds of water vapor every second. That water, which comes from the moon's Tiger Stripes region, so named for its distinctive markings, "creates a doughnut-shaped torus of vapor surrounding the ringed planet," according to ESA. "The total width of the torus is more than 10 times the radius of Saturn, yet it is only about one Saturn radius thick. Enceladus orbits the planet at a distance of about four Saturn radii, replenishing the torus with its jets of water."
That's a lot of water. But scientists have only just discovered the jets because the vapor is transparent in visible light. Herschel, though, was specifically designed to see in infrared, a wavelength used to shoot the photograph embedded above. "Herschel has proved its worth again. These are observations that only Herschel can make," said Göran Pilbratt, Herschel Project Scientist, in an ESA release.
View more Pictures of the Day.