Picture of the Day: The Layers of Rock in Mars's Gale Crater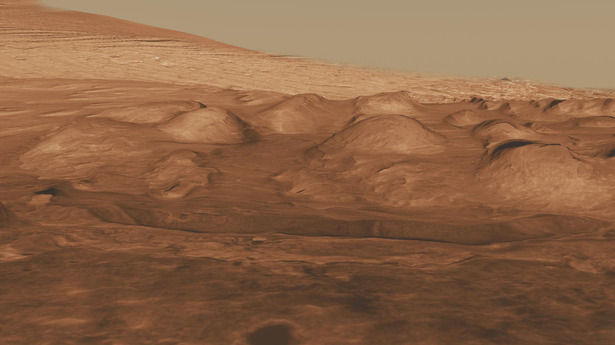 The small hills at the foreground of this image of Mars' Gale Crater may contain clues to the water cycles on the Red Planet, according to NASA. The hills hold sulfate salts, which are full of water. When the planet heats up in the summer, some of the water is released by the salts into the atmosphere; as temperatures cool, the salts absorb water back into them.
"The Mars Science Laboratory team will investigate how water is exchanged between these minerals and the atmosphere, helping us understand Mars' modern climate," NASA explained. "The hills are particularly useful for this investigation because different parts of the hills are exposed to different amounts of sunlight and thus to different temperatures. Curiosity will be able to compare the water in these contrasting areas as part of its investigations."
The Laboratory spacecraft is currently scheduled to launch on November 25, 2011. The primary mission will last one Martian year, or nearly two years here on Earth.

This oblique image was created using information from the High Resolution Stereo Camera on the European Space Agency's Mars Express orbiter and the High Resolution Imaging Science Experiment camera on NASA's Mars Reconnaissance Orbiter. The three-dimensional perspective was constructed by performing a stereo analysis of the image pairs.
View more Pictures of the Day.
Image: NASA.