Picture of the Day: The Inverted Heat Shield of NASA's Opportunity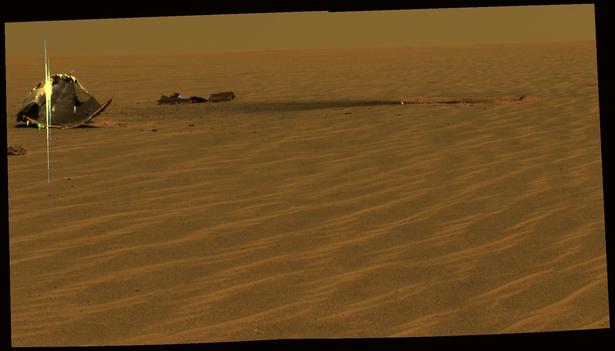 NASA's Mars Exploration Rover Opportunity captured this photograph of its own destroyed heat shield on December 21, 2004, at about 1:22 p.m. local solar time. The heat shield, which is shown here broken into two large pieces with the main chunk on the left edge of the photograph, protected Opportunity as it descended through the Martian atmosphere.
Heat Shield Rock, the meteorite that sits just in front of the primary component, marks a spot near where the shield landed. "The rover spent 36 sold investigating how the severe heating during entry through the atmosphere affected the heat shield," according to NASA. "The most obvious is the fact that the heat shield inverted upon impact." In this image, the sun reflects off of the silver-colored underside -- now on the outside -- of the thermal blankets that lined the shield.
View more Pictures of the Day.