Picture of the Day: The Bright Dust Lanes of NGC 624 Galaxy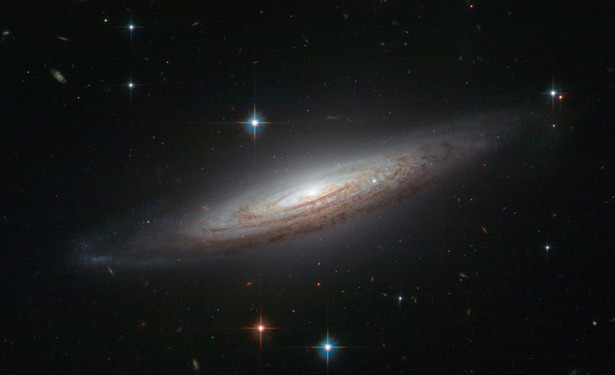 About 120,000 light years across, the NGC 624 galaxy, shown here as seen by the Hubble Telescope, is slightly bigger than our own Milky Way. The nearly edge-on spiral, located about 220 million light years away from us, was mentioned in astronomy circles back in 2008 when a supernova exploded inside of it.
"The disk of the galaxy, like in most spirals, is ribboned with dark dust lanes, huge clouds of complex organic molecules expelled by stars being born and stars dying," according to Discover magazine's Bad Astronomy blog. "It's pretty common to see them, but what struck me is the asymmetry of the lanes: they are darker on the bottom than at the top. The overwhelming impression is that we're looking down on the spiral, so the dust lanes are more obvious on the near side than the far side."
Bad Astronomy notes that the asymmetry is likely do viewing the galaxy through a extended field of stars that make the lanes of dust appear brighter on the near side. "[T]hat explains why we see the dust better on the galaxy's near side: We're not looking through as many stars. It's like we're looking through a fog; stuff nearby is clearer than stuff farther away because we're looking through less mist."

View more Pictures of the Day.