Picture of the Day: Russian Cosmonauts Conduct Spacewalk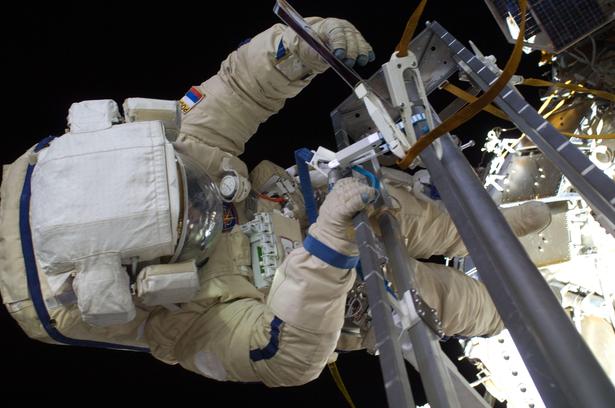 Tucked deep inside of Russian Orlan spacesuits, cosmonauts Alexander Samokutyaev and Sergei Volkov (pictured) performed a spacewalk on the International Space Station on Wednesday, August 3, 2011. This photograph was taken during the six-hour, 23-minute walk, during which "the flight engineers moved a cargo boom from one airlock to another, installed a prototype laser communications system and deployed an amateur radio micro-satellite," according to NASA.
Volkov, son of Aleksandr Volkov, is the first second-generation cosmonaut. After years of training -- for the International Space Station, for the Expedition 7 backup crew, for the Expedition 11 primary crew, etc. -- Volkov made his first spacewalk in 2008 as commander of the Expedition 17 mission, which ran from April to October of that year.
View more Pictures of the Day.