Picture of the Day: Opportunity's View of the Rim of Endeavour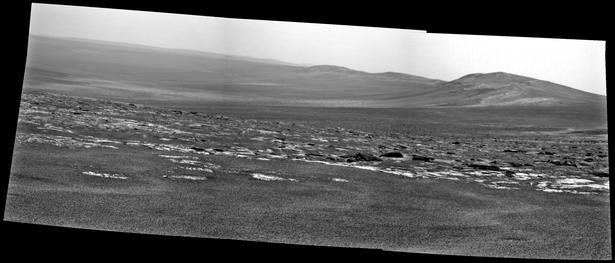 Yesterday, we ran a picture of the heat shield from NASA's Mars Exploration Rover Opportunity that was taken back in December 2004. The robotic science lab has been operational ever since, crawling all over the Martian surface, collecting samples and running tests for its controllers back on Earth. Today, we feature an image that Opportunity took with its panoramic camera on August 4, 2011, its 2,676th Martian day on the planet, after completing a 396-foot drive that brought it closer to the rim of Endeavour Crater.
"Endeavour Crater has been the rover team's destination for Opportunity since the rover finished exploring Victoria crater in August 2008," NASA explained. "Endeavour, with a diameter of about 14 miles, offers access to older geological deposits than any Opportunity has seen before. This view looks toward a portion of the rim south of Spirit Point, including terrain that Opportunity may explore in the future."
View more Pictures of the Day.