Picture of the Day: NASA's Two Shuttle Carriers Fly in Formation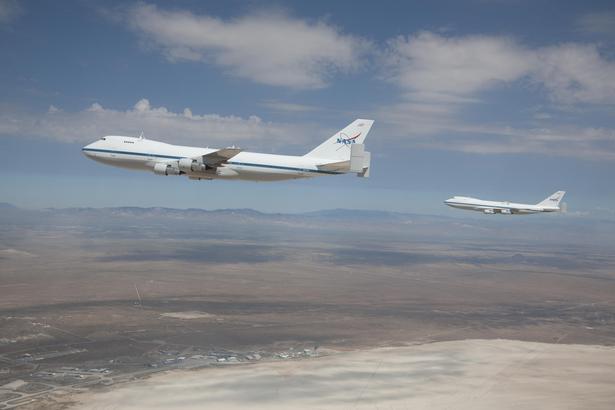 Earlier this month, NASA's two modified Boeing 747 Shuttle Carriers, the NASA 911 (foreground) and the NASA 905 (rear), flew in formation over the Edwards Air Force Base Test Range in southern California. The NASA 911, which was first used to move Space Shuttle Endeavour from its manufacturing site in Palmdale, California, to the Kennedy Space Center in 1991, was running a flight crew proficiency test. The 905, most famous for the tour of Europe it took with Enterprise strapped to its back, was running a standard test flight following maintenance work. With both Carriers in the air at the same time, one of the pilots, Jeff Moultrie, decided to move them into formation for 20 minutes, just long enough for NASA photographer Carla Thomas to capture some stills from a NASA Dryden F/A-18.
View more Pictures of the Day.