Picture of the Day: Hubble Images the Three Galaxies of Arp 274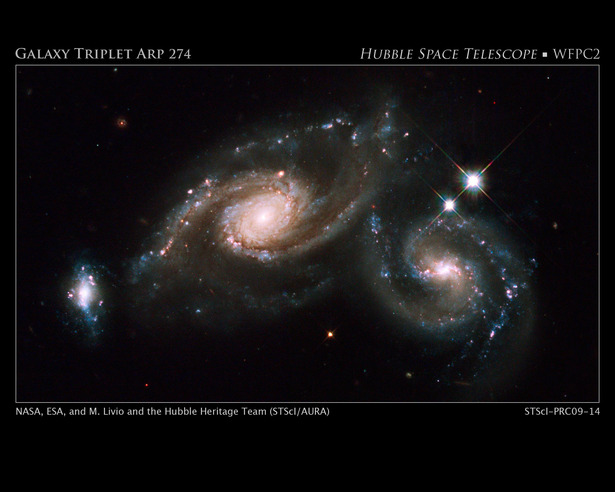 NGC 5679 or Arp 274 is a system about 400 million light years away made famous because it looks like three galaxies overlapping with one another. In fact, the galaxies may have quite a bit of space between them, but the position from which we view them from Earth makes it look like they're sitting one on top of the next. The two galaxies furthest to the right in this image are clearly shaped like spirals; the third is smaller and more compact, but most likely shares the same spiral shape.
"Two of the three galaxies are forming new stars at a high rate," according to NASA. "This is evident in the bright blue knots of star formation that are strung along the arms of the galaxy on the right and along the small galaxy on the left." This was all confirmed when Hubble's Wide Field Planetary Camera 2 imaged Arp 274 back in April 2009. "Blue, visible and infrared filters were combined with a filter that isolates hydrogen emission," NASA explained. "The colors in this image reflect the intrinsic color of the different stellar populations that make up the galaxies. Yellowish older stars can be seen in the central bulge of each galaxy. A bright central cluster of stars pinpoint each nucleus. Younger blue stars trace the spiral arms, along with pinkish nebulae that are illuminated by new star formation. Interstellar dust is silhouetted against the starry population."

View more Pictures of the Day.