Picture of the Day: Apple's New Grand Central Terminal Store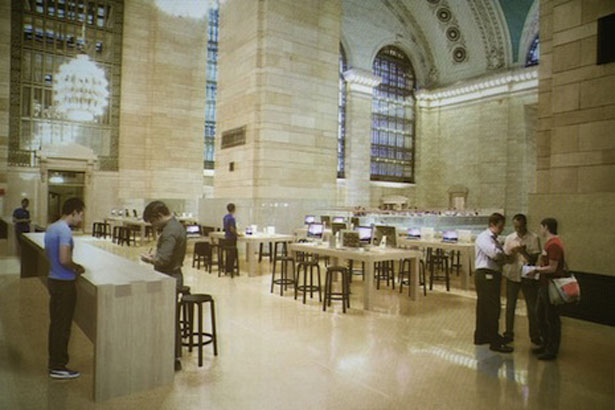 Whenever word leaks that a new Apple store is in the works, there's a sizable crowd that gets really excited. Ooh! Now I won't have to travel as far to upgrade to the next iPhone or to visit those geniuses at the bar, they think. The most recent revelation is that Apple will be opening a retail store in New York's Grand Central Terminal.
The store looks similar to many other Apple retail locations, with long wooden tables, a sea of black stools and lots of blue t-shirts and iThings. It won't be contained inside of a giant glass cube because of the limitations of the building, but the store will feature a huge plate glass wall in an attempt to minimize disruption of the Terminal's famous architecture.
The Wall Street Journal, which released the artist's rendering shown above, revealed that Apple will pay $1.1 million in rent to the Metropolitan Transportation Authority for the space, which it paid Charlie Palmer's Metrazur $5 million to vacate eight years before the lease was up. Palmer was paying $263,997 in rent for the space. Apple will begin construction in the very near future. It hopes to have the store completed in about four months.

View more Pictures of the Day.
Image: Rob Bennett/The Wall Street Journal.