Picture of the Day: A Snowman Made of Craters on Asteroid Vesta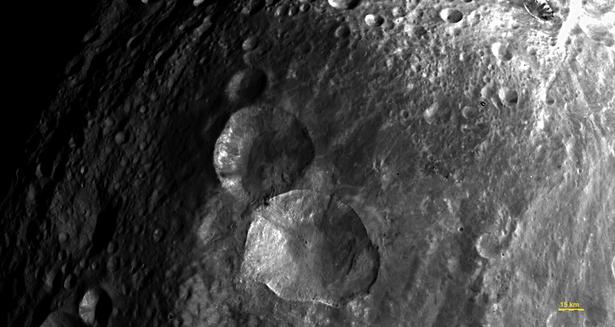 Taken by the framing camera mounted on NASA's Dawn spacecraft during the last week of July, this photograph shows a set of three craters known affectionately as "Snowman," because they appear, from space, to be stacked, one on top of the next, like balls of packed snow. Dawn shot this image from about 3,200 miles out from Vesta, according to NASA.
Dawn reached the asteroid Vesta in mid-June. It will stay there, orbiting and capturing photographs and data, until 2012, at which point it will depart for Ceres, another asteroid. At about 330 miles across, Vesta is one of the largest asteroids known to astronomers currently working; it accounts for about nine percent of the entire asteroid belt's mass.
View more Pictures of the Day.