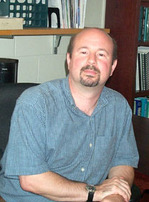 In my article a few months ago about the importance of China-US efforts to find cleaner ways to use coal -- because both countries, like it or not, are going to keep using coal, and because if they don't find ways to reduce its carbon emissions, nothing else done about climate change will count -- I quoted the Penn State climate scientist Michael Mann (right).
I did so knowingly, aware that people who deny the reality of climate change had singled him out for vilification, largely because of allegations of misbehavior revealed by the "climate-gate" hacked emails.
Two things have happened since then.
First, China has gone ahead with its cleaner-coal projects, while many on the US side have been delayed, scaled down, or zeroed-out because the federal support for the research is already being pared back. Great.
Second, Michael Mann has been cleared, of all charges of misconduct, yet again.
You can read about it in a Bloomberg report on a National Science Foundation investigation of Mann. If you want, you can get the full NSF findings in PDF form. The NSF goes through the assorted "climate-gate" charges and concludes, laconically if with sub-optimal grammar:

>>Finding no research misconduct or other matter raised by the various regulations and laws discussed above, this case is closed.<<

Mann had previously been cleared in an investigation by Pennsylvania State, and in a related study by NOAA.