Maybe a Second AOL-Time Warner Marriage Would Work Better
When the two companies first merged back in 2001, they had competing interests. Today, they're both focused on creating content.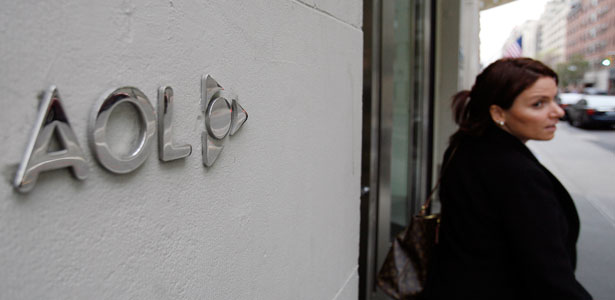 America Online acquired Time Warner for more than $165 billion in stock and debt in 2001 in what is widely regarded, retrospectively, as the worst partnership ever. In December 2009, with a number of big companies talking about joining forces, PBS looked back at the AOL-Time Warner tie as a way to caution others; PBS called AOL-Time Warner "one of the biggest failures in merger history." But here's a crazy thought: A decade after that merger, Time Warner and AOL are completely different companies. The two might make a much better pair the second time around.
The idea behind the 2001 merger sounded perfect: one of the world's largest distributors of online content meets one of the world's most recognized content-making companies. But the companies were too different, and their mismatch led to failure.
At Time Warner, content has always been king. It's a content company with powerful brands, among them CNN, HBO and Sports Illustrated. Editors ruled the halls and their product trumped all else. At AOL, according to Larry Kramer, a former Washington Post editor and one-time CEO and chairman of MarketWatch, "it was the equivalent of the 'circulation' and 'marketing' departments that ran the company." With AOL's customers forced to stay on the AOL platform, nobody worried about the quality of the editorial products being served. They just worried about sending out CDs and luring more people in, "selling connectivity to the Web, not an editorial product," according to Kramer, who wrote about the merger in 2009, a week after Time Warner decided to spin off AOL for good, in the Daily Beast.
Now, everything has changed. AOL is, primarily, a content company. "AOL is singularly focused on becoming the next great media company for the digital age, being rich, engaging and easy to find content and experiences for consumers and best-in-class environment for advertisers," CEO Tim Armstrong said in a statement that accompanied his company's second quarter earnings report.
If you're not comfortable calling AOL a content company just yet, you will be in a year or two, when the transformation is complete. The company is fast losing subscribers -- and revenue from subscriptions. But, before all of that money is gone, AOL CEO Tim Armstrong is using it to make big bets, primarily on the Huffington Post, a $315 million acquisition, and Patch, a nearly 1,000-journalist-strong network of local sites that continues to lose more than $100 million per year. If those bets pay off, they will pay off big. But they may need more time and a bigger investment than AOL can give them.
AOL's old subscribers have slowly, steadily realized that they don't need to pay AOL a large monthly fee to get access to the Internet. But investors have already figured that out too. As a result, AOL's stock has plummeted. Just this morning, the company announced that its board of directors had approved a repurchase program of $250 million worth of outstanding shares over the next year to take a piece off the marketplace, where it believes it is undervalued. On Tuesday, after AOL announced its second quarter earnings, the company's stock reached its lowest point since separating from Time Warner. When the markets closed, AOL's stock had fallen more than 25 percent to just $11.19 per share. On Wednesday, another rough day for the markets, AOL's stock continued to fall, settling at just $10.22 per share, down another 8-plus percent.
Today, Time Warner's market value, at nearly $31 billion, is about 24 times that of AOL. Purchasing AOL would hardly dent Time Warner, where net income from 2010 is twice AOL's current market cap. Back in 2001, with AOL artificially inflated by the interest in untested tech, the two companies were considered equals. Today, Time Warner's revenue is more than 11 times that of AOL. It employs six times as many people, has assets valued at more than 20 times those of AOL, and is actually making money. Lots of money. Billions of dollars. With the bubble deflated and AOL stock depressed, Time Warner could absorb the company without much difficulty.
There have been many secondary reasons given for the initial merger's failure (all in addition to the companies' competing interests, distribution of content and creation of content). Time Warner's executives resented AOL from the beginning, dismissing it as a waste of time. No one felt they had a stake in making the situation work. Some feared AOL would try to take control of the entire company. The two distinct cultures failed to find common ground.
In April 2002, not long after the merger, AOL-Time Warner reported a 
loss of $54 billion
. Less than a year later, in January 2003, that number had 
climbed to $99 billion
. Before the year was out, the company was no longer AOL-Time Warner, but just Time Warner; executives decided that dropping the AOL name might help. The bubble had burst and whatever back-room math that allowed AOL, an Internet upstart, to purchase a company 70 years its senior, was put to an end. By the time AOL and Time Warner were able to sever ties completely, in May 2009, the combined company's stock had fallen from more than 
$161 per share
 to less than $24 per share. Both companies survived, but one is thriving and the other barely hanging on. Were Time Warner to add AOL to its growing roster of divisions, there would be little argument over who is in charge and direction would flow from the top down.
You won't find an argument here that the first merger was anything less than a disaster. But were I writing back in 2001, I'm not sure what position I would have taken. While some predicted the collapse of the combined company, not everybody thought joining forces was a bad idea. If there weren't some supporters, the merger wouldn't have happened, of course. When things go right, the benefits of mergers and acquisitions are many: Larger market share, reduced financial risk, increased efficiency, shared operational expertise. With their differences settled and out of the way, reuniting these two one-time sisters could produce an unstoppable content company.
Image: Reuters.