Is This What Apple's Next Set of Retail Stores Will Look Like?
An anonymous applicant has filed a proposal with the Santa Monica Planning Commission for a dramatic new store made out of glass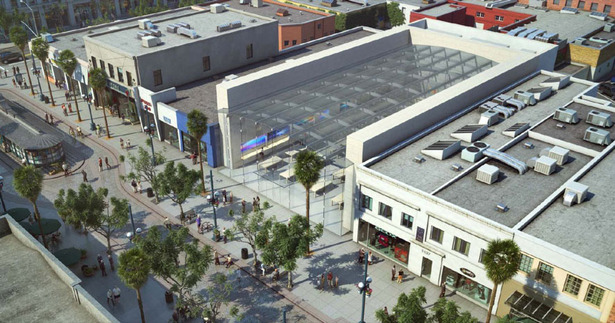 Something good is coming out of the Borders collapse. ASB/Blatteis Promenade Holdings, LLC has quietly filed a proposal with the Santa Monica Planning Commission for an 8,084 square-foot glass structure on the Third Street Promenade in the California city. While the applicant is listed as "Howard Robinson," several blogs have speculated that the building will house a dramatic new Apple Store. That makes sense given Apple's work with glass and stone in their retail locations as well as the company's recent decision to invest heavily in major upgrades and expansions.
When renovations begin on the existing structure, pending review by the city's Architectural Review Board, contractors will knock the second and third floors out completely so that the completed retail store can feature a 34-foot high ceiling that arcs from one stone wall to the other. At the front of the building, glass panels will project five feet out from the side walls before meeting in the middle at a set of glass doors. The site will also feature a 5,000-plus-square-foot basement.
The design is not the only forward-thinking part of the proposal, however. The applicant, whoever that may be, is also setting up a program to encourage alternative modes of transportation to and from the office. "The applicant will offer all full-time retail employees a $100 monthly transit subsidy towards the purchase of transit fare and a $20 per month bicycle reimbursement subsidy for improvements, maintenance, and service," according to a Planning Commission report. "In addition, secure bicycle parking for employees of the building will be located in the basement level."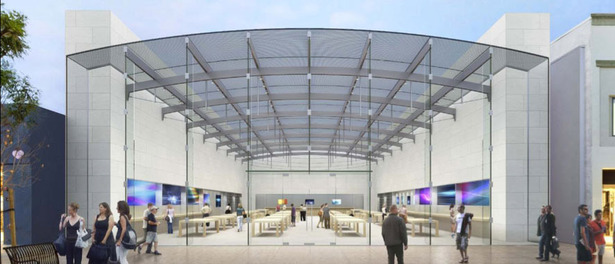 Images: Curbed.