Holograms at the Heart of New Lightweight, Cheap Microscope
Engineers at the University of California, Los Angeles, have designed a microscope that weighs about the same as a banana and is powered by AA batteries. Because it is made out of parts common in consumer electronics (such as a laser from a laser pointer and a sensor chip found in many cell phones), it can manufactured for less than $100, according to a report in ScienceDaily. For doctors who work far away from from a lab, such as in rural areas or refugee camps, a cheap, portable microscope will make it possible to do things such as determine water quality and examine blood for bacteria.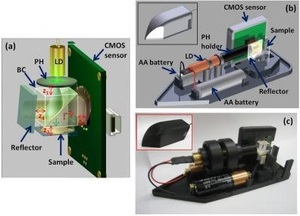 Researchers were able to pare down the weight of a conventional microscope by ditching what is usually the central feature: lenses. How do you make a microscope without a lens? Instead, these microscopes employ hologram technology: a light beam passes through or bounces off of a sample before "interacting" with a "reference beam" that has not touched the sample. The pattern created by these two beams is recorded by a sensor chip. Computer software is then used to analyze that pattern and reconstruct what the first beam passed through.
Health workers will be able to analyze the sensor chip's data on either their laptops or phones, or by sending the information over the Internet of mobile networks to be processed elsewhere. Aydogan Ozcan, one of the microscope's inventors, says that essentially their technology replaces "an expensive and bulky, heavy component with computer codes."
Images: Ozcan BioPhotonics Group at UCLA/Biomedical Optics Express.