Google Doodle: Happy Birthday Jorge Luis Borges
A fantastical landscape celebrates what would have been the 112th birthday of Argentina's beloved short-story writer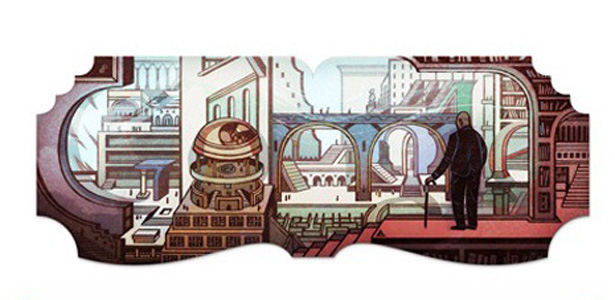 Happy Birthday Borges! Today's Google Doodle commemorates what would have been the Argentine writer's 112th birthday.
The Doodle depicts an old man looking out upon a surrealistic landscape of futuristic architecture, a maze of stairs, and shelves of books, possibly a reference to "The Library of Babel," one of Borges' most famous short stories. The Doodle's shape is evocative of an open book.
Borges was born in Buenos Aires in 1899. He moved with his family to Europe as a child and returned to Argentina in 1921. He began writing at an early age (publishing a translation of an Oscar Wilde short story into Spanish at age nine) but his most famous and beloved works didn't come until later in his life. His short stories are known for their dream-like imagery, sweeping themes such as religion and the reach of knowledge, and fantastical ideas. His influence is apparent in the works of Gabriel Garcia Marquez and Mario Vargas Llosa, both of whom won the Nobel Prize for Literature, though Borges himself never did.
Borges died in 1986 at the age of 86.
Image: Google.