Google Doodle Commemorates Lucille Ball's 100th Birthday
Powered by YouTube, Google's homepage features a vintage television set and several iconic clips from Lucy's classic 1950s sitcom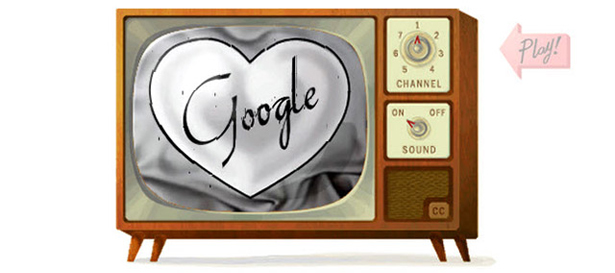 Happy birthday, Lucy. Today would have been the 100th birthday of legendary comedian Lucille Ball and Google is celebrating by featuring an interactive Doodle on its homepage in the style of the classic sitcom I Love Lucy.
Visitors to Google.com are met with the boxy, vintage television set and a short video that features the word "Google" scrawled over a black-and-white heart that mimics the opening of Lucy. Following that, a play button pops up, inviting visitors to use the television's dial to choose from several iconic clips from the show, which ran on CBS from 1951 to 1957.
Many viewers will remember the scene from the chocolate factory, where Lucy can't keep up with the conveyor belt and has to resort to stuffing candies in her mouth, hat, clothes -- anywhere she can fit them -- before her supervisor checks in. But the Google Doodle features other clips (powered by YouTube), including Lucy's misadventures stomping grapes to make wine and her attempts to convince friend and neighbor Ethel that she can carry a tune.

What makes these clips so infectious even 60 years later is the hysterical laughter that accompanies them from start to finish. That isn't a track you're hearing; Lucy was filmed in front of a live studio audience and every guffaw was captured on tape.

Ball died in 1989 at the age of 77.

Image: Google.