Assisted and independent living residents struggling with loneliness are learning how to use email, Facebook, and Twitter to reconnect with old friends
Betty Love Goodykoontz turns 101 on September 1 and, this year, she's giving a gift to her loved ones instead of receiving one. Her gift of choice? A blog.
An engaged member of her community in Birmingham, Alabama, and a retired schoolteacher, Betty knows better than nearly anyone just how important and significant a gift this is. She's witnessed more than just the digital revolution, seeing an entire world change exponentially over the last century. On her 90th birthday more than ten years ago, she took some time to reflect upon seeing the world and the way in which we communicate within it change so drastically over the last century, in the form of a poem:
After the pony express we corresponded by post;
Now email delivers in seconds at most!
In encyclopedias we used to get our "info;"
Now the Internet tells us more than we want to know!
"I came from the horse and buggy days all the way to outer space," Goodykoontz says. "I've seen amazing things happen, and the technology -- the iPhone and everything that has developed since just then ... it blows my mind to see what we have now and where we came from." For the centenarian, it's the computer that has been the game-changer: "It's a wonderful thing. For those of us that can't get out, we can bring the world in."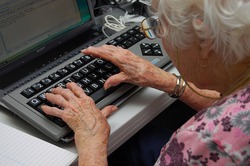 More than just a tool or channel for information, the Internet (and social networking, more specifically) has become a way for aging adults to connect to their loved ones and maintain their communities and relationships in ways more powerful than anything they ever imagined.

As adults move into older age, the spatial and social barriers they encounter start taking their toll. Isolation, loneliness, and depression are commonly experienced as family and friends move away and are less accessible, and as individual mobility and independence start to decline.