Facebook for Centenarians: Senior Citizens Learn Social Media
Assisted and independent living residents struggling with loneliness are learning how to use email, Facebook, and Twitter to reconnect with old friends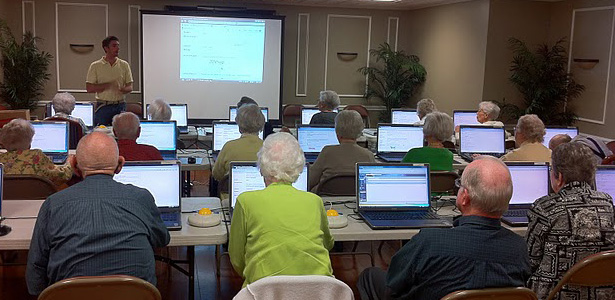 Betty Love Goodykoontz turns 101 on September 1 and, this year, she's giving a gift to her loved ones instead of receiving one. Her gift of choice? A blog.
An engaged member of her community in Birmingham, Alabama, and a retired schoolteacher, Betty knows better than nearly anyone just how important and significant a gift this is. She's witnessed more than just the digital revolution, seeing an entire world change exponentially over the last century. On her 90th birthday more than ten years ago, she took some time to reflect upon seeing the world and the way in which we communicate within it change so drastically over the last century, in the form of a poem:
After the pony express we corresponded by post;
Now email delivers in seconds at most!
In encyclopedias we used to get our "info;"
Now the Internet tells us more than we want to know!
"I came from the horse and buggy days all the way to outer space," Goodykoontz says. "I've seen amazing things happen, and the technology -- the iPhone and everything that has developed since just then ... it blows my mind to see what we have now and where we came from." For the centenarian, it's the computer that has been the game-changer: "It's a wonderful thing. For those of us that can't get out, we can bring the world in."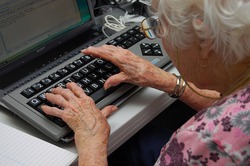 More than just a tool or channel for information, the Internet (and social networking, more specifically) has become a way for aging adults to connect to their loved ones and maintain their communities and relationships in ways more powerful than anything they ever imagined.
As adults move into older age, the spatial and social barriers they encounter start taking their toll. Isolation, loneliness, and depression are commonly experienced as family and friends move away and are less accessible, and as individual mobility and independence start to decline.
An upcoming study to be published by Dr. Shelia Cotten, a sociologist and Associate Professor from the University of Alabama, Birmingham, reveals that Internet use was associated with a 30 percent decrease in depressive symptoms among older adults who used it regularly, while other studies have shown similarly impressive results.
The 74-plus demographic is the fastest growing demographic among social networks, according to the Pew Research Center's Internet & American Life Project, and social networking among Internet users ages 65 and older grew 100 percent between April 2009 and May 2010, jumping from 13 percent to 26 percent. Facebook, Twitter, and Skype all show the most growth in the older adult demographic and with 39 million people currently aged 65 and older -- and an estimated 55 million by 2020 -- social networks are sure to continue to see a surge in their older base.
In a panel at last year's Annual Scientific Meeting on Aging, Dr. Laura Carstensen, the director of Stanford University's Center on Longevity, explained that social networking is proving more and more to be an entrance into technology for older adults. As a gateway, the vastness of the Web seems less intimidating, and many of the fears they have about computers and technology are put at ease when placed in the context of a community like Facebook. Carstensen likened the site to genealogy on steroids -- a source of instant connection for adults who live increasingly isolated lives in assisted living facilities and away from their families, often struggling with depression as a result.
Senior centers around the country now offer computer classes that branch off into specific courses focusing on social networking and teaching older adults how to engage with these tools -- and they're growing in popularity. In Newport News, Virginia, the city recreation department offers a wide range of computer classes geared towards the senior set, ranging from "Computer Basics," "Beginning Word," and "How to use a USB," to "How to Use Facebook," "How to Use MySpace," and a two-session course dedicated to YouTube. "Internet Safety" is available for new users to gain knowledge about protecting their privacy online, one of the biggest concerns for older adults new to the Web.
The Jewish Council for Aging (JCA), serving the Washington, D.C., area, has an entire Senior Tech program in place, with computer courses geared towards learning the tech skills needed for job searching and in the workplace, including adding a profile to LinkedIn and utilizing social media. In their program, teachers work with seniors as peers. As a result, students often go on to become volunteers and coaches for new students.

In addition to her upcoming publication linking Internet use to decreases in depression in older adults, Dr. Cotten spent the last year researching the impact that the Internet and social networking sites have on seniors living in assisted and independent living centers, particularly in terms of their social relationships and quality of life.

Cotten and her team of UAB graduate students led 300 older adults in computer training courses, setting out to discover whether information and communication technologies (ICTs) would allow individuals to "transcend social and spatial barriers," allowing residents at the living communities being studied to enhance their social networks and feel a greater sense of connection to the world at large. In a presentation at last November's Annual Scientific Meeting on Aging in New Orleans, Cotten presented her study of 15 assisted and independent living communities, which were randomly divided into three different arms of the study.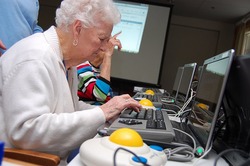 Visiting 15 assisted living communities for study, Cotten and her team led an eight week training class for the five communities randomly assigned to the ICT intervention component, meeting twice a week for 1.5-hour sessions. The other two arms of the study were an attention control and true control group. "We wanted to know if the impact of the study was due to people using technology or if it was due to the fact that we have young, energetic grads students and undergrads going in and doing fun activities with them. [In the attention control group] we play games, we'll do trivia sessions, sing-alongs. We're in there for the same amount of time and interacting with them in similar ways, but it's not tech-related," Cotten explains.
The ICT group started their computer classes learning the most basic skills: turning the computer on, logging in, opening and closing programs. They later moved on to email, learning to search and evaluate information online, social networking, and how to use sites like Hulu, YouTube, and Google Earth -- a favorite among older adults, who enjoy checking up on their old homes and neighborhoods. The mean age of the participants was 82.5 years, and the average time spent in an assisted living community was 3.25 years. Cotten and her team used field notes, focus group data, observations, and five surveys distributed to participants over the course of a year to evaluate the results of the study.
For many participants, it wasn't their first time using a computer. "I had a computer back in '98," said Goodykoontz. "I had taught myself by trial and error; I thought [the class] would be a good chance to learn from a professional." Fellow participant Vivian Mathews said that thought she had already owned a computer -- "bought one when everyone bought one; it was the thing to do," she says -- she saw the classes as an opportunity to explore the wealth of information her computer could provide. "I learned more about the Internet and how to do email -- those were the important things. And how to search for people, and all kinds of good stuff."
The study yielded surprising results; looking at numbers alone, survey results from the ICT intervention group showed increases in stress and anxiety levels, and feeling "more limited in work and other activities due to stress." The other two groups showed either a slight decrease or no change. However, when asked about perceived world size, the ICT group showed a significant increase, providing comments saying they "no longer feel left behind," and "the world seems bigger."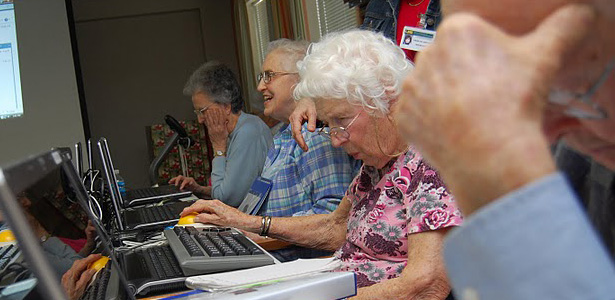 Apart from the large change in perceived world size, there was little change in quality of life from pre- to post-intervention, partly because eight weeks may be too little time and also because of the realization on the part of the participants that their memory may not be as robust as it once was, Cotten says. "One of the things we speculate is that being in this technology class makes people realize the wealth of information that they don't know," she explains. Even spread over eight weeks, the bi-weekly 90-minute class and additional office hours can take its toll -- "there's a cognitive burden that's going on there," says Cotten.
The qualitative results -- the testimonials and engagement from the participants, and the enthusiasm for continued training and classes -- suggest a different story.
When asked "How has the Internet changed your life in any way?" -- the feedback was surprisingly poignant. One participant responded saying, "We feel like we've joined the human race," while another said the computer class was the best thing she'd done since her husband died. One participant's answer was particularly staggering: "We're not as close to the grave as we thought."
"No matter how many times I hear that, it still sends chills down my spine," Cotten says. "I think for some people -- in assisted living in particular -- it's almost like the world is really just passing them by and they're just kind of waiting there to die. Having them be able to feel like they're learning this new stuff that can connect them with the larger world, it feels like it's pushing off death -- it's pushing them 'further from the grave.'"
It became increasingly apparent that more than finding information, the engagement with their social networks and sense of renewed relevance was the most significant gain for older users. "It's this kind of bigger sense of mattering, in the social world, if you will," Cotten explains. "You're not just something that's been pushed off to the wayside anymore. You still have consequence."
Over the course of the eight weeks, 10 to 15 percent of the group went on to engage in more advanced technology like social networking, joining Facebook and Eons, an online community for the Boomer set. Several of the students created Facebook profiles during an office hour session, joining initially to keep in touch with family members. Within no time they were soon finding and reconnecting with old high school friends and co-workers.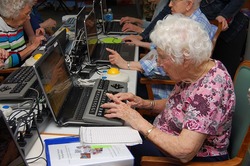 Of course, life expectancies being what they are, the chances of finding contemporaries as one gets older can prove to be more challenging. Mathews jokes, "I found some friends I knew a long time ago. But honey, I'm 90 years old, most everyone I know is dead. I kept getting obituaries." But, she says, in spite of this, Facebook has been an especially rewarding thing.
Now, Mathews can be more involved in the lives of her loved ones than ever before, using Facebook to check up on her great granddaughter. "She's a junior in college and I get to see all the things she's doing -- all the sorority things and such. It makes me feel about 80 years younger," she says. "And when I see what she says about her boyfriend and what's she's going to do, I can get on the telephone and say, 'Don't you do that!'"
Carol Boulding, a 79-year-old from Auburn, California, also finds herself using the site as a way to check up and be involved in her grandchildren's lives. Not a participant in the UAB study, Boulding joined the network on her own five years ago, and says it's been a real source of enjoyment. "I heard that family members were joining and I wanted to see what I was missing or not missing," she says. "It's a healthy thing, emotionally. I feel connected, and so many old people feel isolated -- I think it's wonderful and just keeping it all working is good for my brain."
Indeed, "keeping it all working" and exercising the brain via digital technology is an increasingly popular area of research, with studies examining the use of brain games and consoles like the Nintendo Wii or even playing solitaire on the computer. Social networking is proving to be not just a way to exercise the mind, but a way to lift spirits and boost morale. But in order for older adults to get the full benefits of these platforms, companies need to understand the way in which older adults engage with these sites. Without making some accommodations to the specific needs of older adults, tech giants could be missing a huge market.
"Facebook, even Gmail -- it's ridiculous that they haven't created easier user interfaces," says Cotten, who is planning on writing a Google grant that would help developers understand the specific aspects of the user interface that prove problematic for older adults. "There are a lot of small, niche companies out there who are [catering to older adults' needs]. They're creating their own very basic email services, social networking sites, etc., with easier-to-use interfaces. Generations Online is one of those companies that have done that."
Generations Online simplifies the Internet for older adults, creating easy-to-use, intuitive interfaces for services like email and general Web surfing. In effect, they live up to their motto of being "devoted to Internet literacy and access for the paper generation;" emails take on the visual appearance of postcards, while Outlook address books transform into rolodexes, helping users cross the digital divide.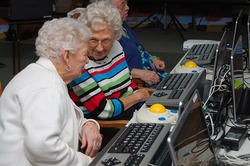 Judging from the feedback of older users about the impact of social networking and its benefits on the morale and mental health of seniors, you'd think that companies like Facebook would be considering interfaces that would be better suited for the senior experience.
Dr. Joe Coughlin, director of the MIT AgeLab, says that social media and tech companies need to understand the differences in how the different generations use and benefit from their technology, and that the problem goes both ways. He says there aren't enough groups in the senior community that understand the technology available and how it would be useful to them, and not enough groups engineering and making the technology that understands what older adults need and why it's important.
Older adults and younger users use Facebook differently; younger users use the service as a celebration of self, a place to post about their life, their friends, pictures, updates, check-ins, says Coughlin. The 50-plus group uses it to connect with new people with similar interests, to seek out information about health care, caregiving, and find communities to belong to, in addition to the pleasure gained from seeing photos of family and friends.
However, not all seniors are as enthusiastic or ready to embrace the increasingly public world of Facebook. Privacy concerns appear to be the biggest barrier to older adults joining the social site; they fuel much of the fear seniors express about engaging with the Internet at large. Boulding says she uses Facebook as a way to check up on friends and grandchildren -- "I don't know if that's fair" -- and says she would sooner email rather than post on someone's wall. "I'm a private person, so I don't put my comings and goings on it so much," she says.
As if Facebook privacy issues weren't confusing enough to tech-savvy users, the policies can be overwhelming to older adults. Cotten says the solution lies in creating a simpler user interface. "When you log on, there could be a simple screener question asking your age, or your experience level -- are you a novice, a beginner, an expert in the use of computers? It could then automatically screen you to a different type of interface."
Looking beyond Facebook and email, Skype and Twitter seem poised to be the next logical arena for older adults to explore.
Skype, the free video calling service, allows grandparents in India to watch their young grandchildren in California play for hours if they'd like. Isolated older adults can feel like they're a part of the daily lives of their families, even if separated by oceans. While video calling has been primarily utilized by a younger demographic, the potential impact of the service on the loneliness that is so prevalent among older adults could prove to be monumental.
Twitter could be also be a more valuable resource to the senior base than many probably realize; Pew estimates show the increase in Twitter users ages 65-plus and reveal that 13 percent of adults ages 50 and older use the service. Just as Facebook is a venue for finding people and groups with similar interests or issues in caregiving and health, the way older adults surf the Web is also much more pointedly goal-oriented than younger users. They use it much like an almanac or encyclopedia. "I like to look up book reviews," says Goodykoontz. "Whenever there's something I'm curious about, I just call it up -- like historical things, to refresh my mind." With Twitter, she could easily start following streams of various literary publications or the Books section of her favorite newspaper.
For older adults, Twitter is the perfect way to curate a stream of news and information relevant to them. After one session setting up an account and choosing select outlets to follow, users could soon access real-time updates in the world of aging and health. The platform allows older adults to overcome one of the greatest mental blocks they have when approaching technology: not knowing where to start.
Studies will continue to examine how these platforms contribute to alleviating depression and perhaps strengthening cognition and memory, and early evidence already suggests the vast benefits they offer. For the incoming group of seniors, however, staying plugged in may not be as much of a challenge.
The Boomer generation will have no problem fitting in, says Rick Stanley, director of the JCA's Senior Tech program. "Aging means a lot of things these days, but what we're going to find out over the next 20 to 30 years is this: that population is going to grow immensely, but they're continually going to be a younger-thinking people. The Boomers grew up in the '60s and '70s; they changed an entire nation with new thought, and that hasn't changed about them. It's going to be hip to be old soon, if it's not already."
---
This article was written as part of a MetLife Foundation Journalists on Aging Fellowship in partnership with New America Media and the Gerontological Society of America.