BART's Cell-Service Cuts: Not Egypt, But Not Quite America Either
SAN FRANCISCO -- On August 11th, the Bay Area Rapid Transit authority cut cellphone service in four of its stations in an attempt to disrupt anticipated protests. Those protests never materialized. Instead, BART attracted public and legal attention, drew the condemnation of the internet group Anonymous, and catapulted itself into the great global dialogue about the relationship between the rights of people and the technology they use.
BART's service cut was the first time anyone has discovered US law enforcement cutting cell phone and internet connections in an attempt to control protesters - probably the first time it had ever happened. Before long San Franciscans were decrying the move, Egyptians were comparing BART to their own deposed Mubarak, and the uncounted legions of Anonymous were gearing up for a fight.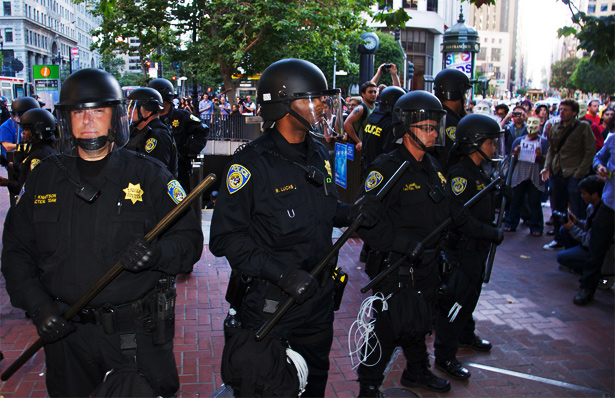 On Wednesday, the BART Board met surrounded by a phalanx of police, to talk about the cellphone service cutoff, with both the public and each other. The BART Board is the ultimate overseer of BART. It is responsible for dealing with the legal consequences from this action, but was not consulted on the telephone cut. It's also charged with coming up with a policy for how the police deal with cell networks.
Director Lynnette Sweet's line of inquiry to BART police Chief Kenton Rainey seemed to indicate the board is out of the loop. The process of the decision to cut phone service had never been explained to them. While Rainey and interim General Manager Sherwood Wakeman continued to take personal responsibility, they spoke elliptically about the process of making and executing on the decision. That is to say, they dodged. The conversation between Sweet, Rainey, and Wakeman was strained, with both men speaking with halting, defensive voices, after clear and easy speeches earlier in the session. Directors Sweet, Joel Keller, and Tom Radulovich conveyed the sense they knew they were experiencing a moment in history. Radulovich opened his own commentary by saying "We are breaking new ground here at BART... in an unfortunate way."
Sweet described the cut as a "huge issue," and went on to say "We don't get to stop people from communicating with each other, even... for protests." She said the protesters weren't going to go away, because "...they're protesting for the right reasons."
While several of the board members may have disavowed the actions of their police on August 11th, none of them went so far as to disavow their right to take those actions. But that's the bigger question: Can American law enforcement cut the public's phone lines at their discretion? Is technological access a right of the people, or a discretionary privilege?
A troubled transit authority isn't the most satisfying venue for a society to ask itself these questions, but here we are.
One member of the public asked the board, "Can you imagine what the police forces of our country would do with the power to shut down cell phone service at will?"
"That for me is the great concern," says Harold Feld, Legal Director for Public Knowledge, a DC based public interest group focused on digital technology. "It does not seem to have occurred to them that they were messing with the phone system."
Feld believes that what BART did is illegal under existing state and federal law. "(The BART police) are a police authority who have control over a cell phone tower," he says, "You're not allowed to interrupt phone service just because you think people are going to do something illegal with it." He wrote for the Public Knowledge website about how cutting cell service could be attractive to other law enforcement.
BART General Counsel Matthew Burrows addressed the speech issues around the service cut that have so angered Anonymous, specifically citing a 1969 case Brandenburg v Ohio, which said that the government may punish speech in very narrow conditions, when speech is likely to incite immediate lawless actions.
UCLA law professor Eugene Volokh believes BART has legal grounds to restrict speech, but not through Brandenburg. "That's a very strange theory to me," he says. "Generally speaking Brandenburg was a very narrow test." He believes they could have a much stronger argument that, while government property, BART is a non-public forum- more like an airport than a park. "The government has considerable authority over its own property," he says. But none of that speaks to telecom law, or even to the concerns of groups like Anonymous, who react to the cut off of technology to the citizenry of any part of the world with extreme hostility. As part of the opBart announcements, an Anonymous video promised that "once more Anonymous will show those engaging in censorship what it feels like to be silenced."
Legal or not, a protest-motivated cellphone service cut is scary. It happened that I was there August 11th, getting off at one of the impacted BART stops to meet a friend nearby. I noticed the phones weren't working, but when I got off my train into the Civic Center station, one of the four stations cut off, I was surrounded by BART police in riot gear, BART employees patrolling around in yellow safety vests, and news crews. Now when I looked at my phone it was sinister; not on the fritz, but taken away by men with guns. They seemed more sinister now too, reaching across modes to take my link to the world away. I got up top and tweeted: "Cell phone service killed on BART today in downtown SF. W/o a doubt meant to thwart protestors."
I may have been one of the first to talk about it, but I didn't really understand its significance, and I was running late. I made a snarky comment, and moved on. Others were quicker to grasp what it meant.
Anonymous launched #opBart, an operation to protest policies, disrupt train service or perhaps have the BART police disbanded altogether- depending on when you were looking at Twitter. For Anonymous, the possible problems and abuses of BART police were secondary to the cell service cut. It's often hard to say anything generally true about Anonymous, but it is safe to say they are extreme free speech advocates.
The August 22nd protest at Civic Center called for by Anonymous' opBart was for a while more well attended by the press than protestors. Within a 15 minutes of protests beginning on the platform, the station was declared closed and all entrances gated, with one door left for people to get out. The trains started passing Civic Center instead of stopping. A strong BART police presence hustled everyone, riders, a knot of protestors, and the press out of the door left open.
Whether Anonymous will have more targets in US law enforcement from incidents of cutting access and phone service will be revealed in the next few months. "Unless the FCC acts to make this clear, we have to worry that somebody else (another law enforcement agency) might want to try it," says Feld. He is worried by the implications. "It wouldn't have occurred to me that people would turn off the phones in this country until a couple of weeks ago."
Images: Steve Rhodes/Flickr.