AOL's Kinda, Sorta Comeback
For the first time in three years, AOL's earnings report showed an uptick in global advertising revenue, which climbed to $319 million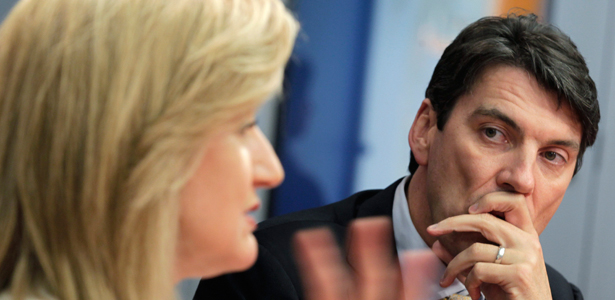 This morning, AOL released its earnings for the second quarter of 2011. While AOL's stock price continues to fall, the numbers were far more promising than I had anticipated. The content, online advertising and Internet access company (that's a mouthful) reported a net loss of just $11.8 million on the back of total revenues in excess of $542 million. Compare that number to $1.06 billion, which is what AOL lost in the second quarter of 2010, just a year ago.
Subscription revenue, as expected, continues to plummet as those who grew up with AOL's "20 free hours this month!" CDs realize that they're not getting enough from the service to continue paying. Over the past year, that column in the spreadsheets has dropped 23 percent, from about $260 million to $201 million. But AOL has finally started to offset that loss with gains in advertising revenue, which climbed five percent over the past year.
This is the first time in three years that AOL's quarterly report showed an uptick in global advertising. While money is still being lost, the most important trend lines are black, moving in the right direction. Growth in this area "reflects the hard work of our team and another meaningful step forward in the comeback of the AOL brand, CEO Tim Armstrong said in a statement. "AOL is singularly focused on becoming the next great media company for the digital age and we have positioned the Company's best people, technology and assets in front of some of the largest opportunities on the Internet."
At this point, it seems that Armstrong's role is largely to slow the sinking of the original ship, that one which was launched as America Online way back in 1991, while the crew onboard builds another one with expensive parts purchased from others. Captained by Arianna Huffington, that new ship is known as the AOL Huffington Post Media Group and it represents everything that AOL wants to become as it repositions itself as a growth company.
Yesterday, Jeff Bercovici wrote on his Forbes blog that the Huffington Post would be better off without AOL. "Despite all the work that Armstrong has done to refashion [the company's] image -- not lease bestowing his own considerable charisma and Googly aura -- the world continues to see AOL as the 'You've Got Mail!' company," Bercovici wrote. That's true. But it doesn't matter what people think of AOL as long as it takes a back seat to the Huffington Post, it's big, $315 million bet. It matters what people think of the Huffington Post.
Either Armstrong knows this or Huffington has more control over her new boss than anyone has given her credit for -- and many have given her lots of credit. Over the past month or two, AOL has replaced many of its AOL-branded content products -- sections of its website, spin-off sites, etc. -- with Huffington Post-branded ones, switching titles and shuffling teams. In addition, the Huffington Post has managed a breathtaking number of launches and new content site rollouts. The changes have been worthwhile: In May 2011, according to comScore, the Media Group recorded more than 30 million unique visitors, surpassing even the New York Times.
Image: CEO Tim Armstrong listens to Arianna Huffington/Reuters.