Why Groupon Shouldn't Get Into the Business of Big-Ticket Items
All 80-plus million of Groupon's members signed up because they enjoyed what it was the service offered, which was nothing like this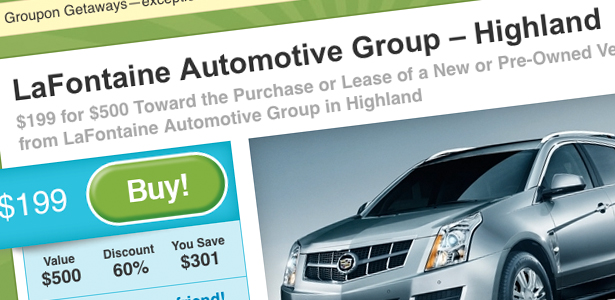 Groupon's decision to offer its first car coupon Tuesday -- $199 for $500 off the purchase or lease of a car from Detroit's LaFontaine Automotive Group -- has some wondering if a move into big-ticket items is how the daily deals site is planning to appear different from the dozens of competitors that have been popping up. "[I]t's another sign that Groupon is taking the daily deals framework into areas where you wouldn't expect it," Techland's Graeme McMillan wrote. "These moves may be a way in which Groupon aims to distinguish itself." If so, it could be in trouble.
After years of positive press because of both its multi-billion-dollar valuation and its impressive growth path, Groupon has the contacts and the power to convince outlets that they should partner with the site and offer bigger and better items. Like the car from LaFontaine Automative Group, a Detroit-area dealership. In turn, Groupon makes more money: On most offers, Groupon takes a 50 percent cut of whatever customers pay for the coupon. But that only works if customers welcome Groupon's move into this new space. If they don't, and decide to flee to the competition, it won't matter how large Groupon's margins are.
There's no downside for LaFontaine; why wouldn't they participate? "[I]f I get 150 people and it costs $400 per commitment, I'm all in on that," Robert Milner, the general sales manager at the dealership, told Crain's Detroit Business. (With the coupon, customers save $301. LaFontaine, though, loses another $99.50 because it has to split the earnings 50-50 with Groupon.) Sixty thousand dollars ($400 savings for 150 sales) sounds like a lot, but not when you consider the price of the cars LaFontaine will be selling. Also, the dealership would spend that money elsewhere if not on Groupon. Milner told Crain's that the standard advertising expense per car comes out to somewhere between $350 and $400, "putting the Groupon cost in line with budgeted expenses."
The checks and balances aren't in place. If Groupon is blinded by the dollar signs and outlets that can offer these high-price items have no reason not to play along then the daily deals site, which made its name by offering cheap coupons for meals at restaurants, spa treatments, groceries and one-night stays at hotels, will continue down this path. Milner has already said that if the deal is a success, he will consider proposing it to the other dealerships within his 14-franchise LaFontaine Automotive Group. And then what? Transatlantic air fares? Houses? Yachts?
All 80-plus million of Groupon's members signed up because they enjoyed what it was the site was already doing, they found the coupons being offered useful. And, over the years, Groupon has made a name for itself by offering a certain kind of deal, a deal that didn't cost $199 dollars and leave you with a new car in the driveway. If I start getting a daily deal in my inbox, which is the primary way that Groupon advertises its offers, for things that I'll never consider buying, the service quickly becomes spam. Worse, for Groupon anyway, I don't even need to declare it as such: After deleting a handful of emails from Groupon in a row, my messaging service will automatically start sending new notifications straight to the spam folder, where they will live with escort ads and things sent in languages I'm unable to read.
And there's another problem: This isn't a new kind of deal for Groupon just because it's expensive; this is a new kind of deal in that what is being offered isn't a product, but an opportunity to buy a product. When I spend $10 for $20 worth of groceries at Whole Foods, I know exactly what I'm getting. When I buy a $15 Groupon for an eyebrow waxing treatment (just a hypothetical) that would have otherwise set me back $25, I know exactly what I'm getting. If I spend $199 for $500 off a new car, the minute I walk into that dealership, the associate could decide he won't barter as hard with me; we all know that the number on the sticker in the window is just the starting point, not the end point.
"This voucher is for a very small portion of the cost of a car or lease, so it's basically an agreement to buy or lease a car from LaFontaine," Ben Edelman, an associate professor at Harvard Business School, told Reuters. "That's poor negotiating because the dealer could take advantage of that by offering the same car for more money. They need to fix that before this part of the model can take off."
I'll just sign up for Living Social, thanks.
Image: Groupon.