When Technology Can't Save You
Cell phones lose service and run out of battery on top of mountains, at the bottom of canyons, out at sea. But if there is one thing that almost always kills a phone, it's water.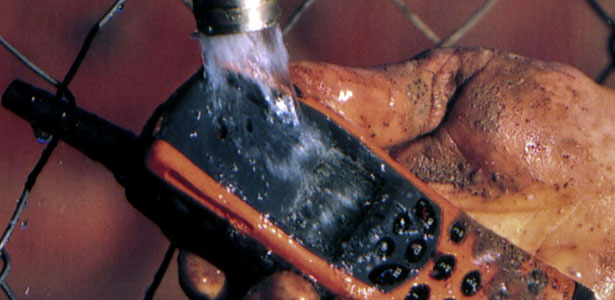 In the early hours of Friday, May 13, a group of five beleaguered boaters emerged from the chilly James River, scrambled up an embankment and banged on the door of the first house they saw. It was after 3 a.m., and wet, cold and exhausted, they arrived in a neighborhood in Smithfield, Virginia, near a small airfield. They were desperately searching one thing: a phone with which to call 9-1-1. They had been swimming for hours, ever since their 22-foot sailboat carrying a total of 10 twenty-somethings capsized in the James River, about three miles off shore. The group had sailed from a party in Hampton; when the boat tipped, all 10 plunged into the 57-degree water. Clinging to boat debris and an empty gas can, the five hoped the current would carry them to shore.
Meanwhile, four others, including my friend Tyler Lorenzi, 23, treaded water while the river swept them downstream. Around the same time their fellow sailors were pleading at the door of a strange residence, a tugboat found their overturned vessel and called authorities. Near a ship graveyard known as the Ghost Fleet, Tyler was eventually pulled unconscious from the James; he passed away in the hospital. Another sailor, Alexander Brown, 24, drowned. Tyler, a graduate of Northwestern University, worked as a research engineer for the National Institute of Aerospace, a division of NASA; Alex was earning a doctorate in engineering there.
I didn't know Alex, but Tyler was generous, selfless and warm, and gave hugs without hesitation; he once made a PowerPoint presentation entitled "Hugging 101" for a friend whom he thought could use a lesson. He was smart and hardworking without ever seeming stressed or pretentious; he gave you the impression he could help if you needed it and he often offered to. He was dashingly handsome, strong in the way of someone who got that way by going about his regular business, with perpetually tan skin and flushed cheeks, the kind that mark someone who is comfortable outdoors and spends much of his time there.
Tyler worried more about having fun than the logistics: He had apparently broken or lost his cell phone so many times that his carrier wouldn't renew his insurance; he often gave out the phone numbers of friends when his cell was out of commission.
According to the Virginia Marine Resources Commission, which investigated the accident, none of the boaters were carrying cell phones on the fatal night, or at least none that still worked. After Tyler's death, I wondered about what went through the boaters' minds -- tech-savvy young people who worked and studied at NASA programs -- when they fell into the water: Did they immediately realize the gravity of the situation? Dependent on their technology on land, did they reach automatically for their phone before reality settled in? What must it have been like to realize that their means of communication - and hopes of rescue -- were quite literally dead in the water?
"It was the middle of the night, it was the middle of the river," says John Bull, a spokesman for the Virginia Marine Resources Commission. "We all presumed that if someone could have called for help, then they would have."
I was hyperconscious of my absolute access to technology as I processed Tyler's death: I was waiting for a delayed flight in an airport, sitting at a brand new charging station, a set of just-vacated electrical outlets at the ready. The news first came via text; I confirmed it 30 seconds later with a phone call; a moment after that, I watched the memorial feed roll on Tyler's Facebook page, then read the news articles about the incident -- all from my Blackberry. I could have orchestrated a rescue mission myself sitting right there in the Southwest terminal at Newark airport. But of course it was much too late. I had too many resources at hand yet could do nothing to help.
Phones lose service and run out of battery on top of mountains, at the bottom of canyons, out at sea. But if there is one thing that kills a phone, it's water. Rare is the warranty that covers water damage. Nokia, for example, say its phones "are built to tolerate occasional exposure to light rain" and several of its devices, including the Nokia 5140i, the Nokia 3720 and the Nokia 5500, have a "rugged design" that can withstand water splashing, but "they were not designed for prolonged submersion." Will technology ever evolve to survive the emergency situations when you need it the most?
Water safety experts will tell you that there is no high-tech substitute for old-fashioned essentials: life preservers, floating devices and flares. But while sailors might assume that their phone will be safer on land, they are safer keeping it with them, Bull says. That and "a $10 investment in a dry pouch to keep a cell phone that might save your life," he says. It may not work in out-of-service areas; it could die or get wet. "But it's better to have one than not," says Bull, who gets calls from boaters "all the time" -- to ask for breakdown assistance, report illegal fishing and jet-skiing and notify authorities that another boat is in distress -- from cell phones. "Of course, if you go in the drink they might not necessarily work," he says. After all, at some level you're on your own: "It's nice if you know how to swim."
But new products can help. Motorola calls its Defy SmartPhone "life-proof," because it's water- and dust-resistant; its new Brute flip phone is designed to meet military standards for "extreme elements," including "blowing rain," "salt fog" and liquid immersion. RIM, which manufactures Blackberry devices, says, "While it is possible that BlackBerry could work after being submerged in water, RIM does not recommend doing it," and adds that in a recent Yahoo News water test, BlackBerry did just fine.
Image: Ho New/Reuters.