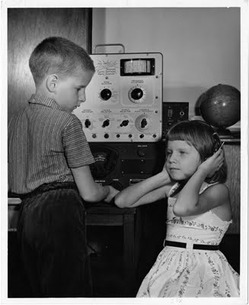 At 11:29 a.m. EDT on July 8, 2011, the Space Shuttle Atlantis launched for the last time from the Kennedy Space Center in Florida. I sat in awe of the live feed on the NASA website, witnessing the final Shuttle take off with people all over the world. Thirty years after the first Shuttle launched, it is strange to think that we'll no longer see these beautiful and familiar ships lift off and disappear into the sky. There's a little Shuttle-shaped hole in my heart now.
Watching the launch reminded me that Folkways had some space-themed documentary recordings that I had never listened to. Moses Asch made more than folk music records -- being an audiophile, what he really wanted to do was create a catalog of the world's sound. Leaps in sound production quality during the space age made it possible to make scientifically useful recordings that also managed to capture the wonder of the time.
On October 4, 1957, Russian scientists, from somewhere in Russia, fired the rocket that put the first artificial satellite into an orbit going around the world once in about 96 minutes. Man's first artificial satellite is called "Sputnik," Russian for traveler.
So begins Folkways Record FX 6200 Voices of the Satellites!, a recording I never thought I would listen to from beginning to end. Narrated by Professor T.A. Benham of Haverford College and released in 1958, it predates human spaceflight. As a result, it provides a fascinating look at not only the history of space exploration, but the world's reaction to it. The album consists of the recorded radio signals of the first fourteen American and Soviet satellites, as well as the heartbeat (!) of the first creature sent into space, Laika the dog. It's a whole lot of beeping, but the exclamation at the end of the record's title says it all: The fact that people could listen to sounds emitted by "man's first space travelers" was exciting.